Key Trends In 2021 For Your Digital Strategy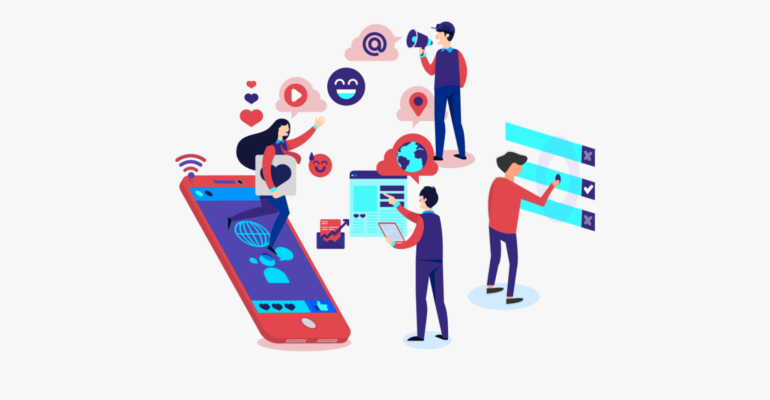 Key Trends In 2021 For Your Digital Strategy
2020 was an unprecedented year that marked an epochal turning point in the use of digital technologies that took place within a few months. We analyzed the latest reports on social media, consumer habits, and digital usage, to find out what the new year has in store.
These are the digital trends forecast for 2021 in both the Social and SEO sectors.
The 9 trends for your social strategy
1. The new Facebook and Instagram showcase
E-commerce will be at the center of social media attention. With the introduction of the Shops, the process of creating an e-commerce point of sale on social platforms will be simplified with useful options and simplified payment tools directly within the Social networks.
2. Messenger, Instagram, and WhatsApp
The dialogue between brand and user is becoming more and more fundamental, which is why Facebook continues to work on the merger of its messaging apps. This, in essence, means that every new feature introduced in any one of these social platforms will eventually be available in the others, which will facilitate new e-commerce opportunities and more ways to run cross-platform advertising campaigns.
3. Customer Experience
The consumer is increasingly at the center of attention with respect to the product and it is important to use strategies that involve him digitally, especially now that contacts are reduced, with innovative experiences that integrate with purchasing behavior
4. Influencer Marketing
In the last year, the Influencer Marketing market has changed profoundly and influencers have increased their value by 57% compared to the previous year on the Instagram and Tik Tok platforms. Brands can no longer help but consider that young people and the very young will increasingly increase their purchasing power, so investing in this field will be inevitable.
Read More : Most Effective eCommerce Lead Generation Tips and Strategies
5. Re-engagement with e-mail marketing
For the reactivation of users. Since it costs more to attract new customers than acquired ones, it is essential to awaken the pool of inactive or simply sleepy contacts thanks to email campaigns.
6. Against digital disinformation
It is hoped that 2021 will be the year in which brands will work together to put an end to fake news and will focus the use of their channels on sharing true and honest content.
7. The Four Cs of COVID-19 Content
After the pandemic is short out in 2021,the consequence will be endure for years.  Brands will have to innovate their communication according to the situation. The tone of the conversation in 2021 will be determined by the four Cs of COVID-19 content.
Community – community
Contactless – the absence of contact
Cleanliness – hygiene
Compassion – compassion
The epidemic situation make it mandatory to resort to a new business plan that can
Compensate for the scarcity of offline business opportunities.
8. Video
The contents in video format will surpass all the others in terms of use and will remain fundamental both on social networks and on Youtube. Through them, in fact, brands can create a unique and personal way to share their knowledge, demonstrate their professionalism, and involve the user, also showing their human side.
Read More : Best Reason To Build an App & a Website For your eCommerce Business
9. Sensitivity towards the world and the period
The humanization of the brand and the sensitivity towards current issues will be fundamental to attracting and retaining its customers. The brand positioning must adapt to the mentality and expectations of the younger target. In Deloitte's annual survey of Millennials and Gen Z, 60% of respondents said they intend to purchase products and services from companies that cared for their workforce and positively impacted society during the pandemic.
The 7 trends to optimize the site through SEO
1. Voice search 
According to forecasts, by 2022 more than 55% of households will own a smart speaker. The last few years have seen exponential growth in the use of voice assistants, it, therefore, becomes essential for brands that sell their products and services online to optimize their content for voice search, thus ensuring better traceability of the site, both that the phrase is typed whether it is spoken
2. Mobile first
It is estimated that by 2025 over 70% of users will browse the web by accessing exclusively from mobile devices. Google, therefore, continues to implement mobile-first indexing, giving increasing importance to the mobile version of the site. If the pages on your site are not properly optimized for smartphones and tablets, your site may not appear in the search results.
3. Google EAT 
Expertise, Authoritativeness, Trustworthiness is the acronym that indicates the fundamental criteria for Google to attribute relevance to the content. Your site must be recognized by Google as an authoritative source on a certain topic, particularly with regards to finance, health, safety, etc.
4. Long Content 
The textual content of 3000 words and up gets triple the views and shares and about 3.5 times more backlinks. In order for there to be an increase in traffic on the site, it is necessary not only to make the site authoritative on a topic but also to create content that engages and is interesting for users.
5. Featured Snippets
Or featured snippets, are those that appear at the top of Google search results, above organic results, and below paid ads. They are larger than other snippets and often include an image. Their purpose is to quickly provide an answer to users' questions so that they do not have to click on one of the results but can learn the information they are looking for directly from the SERP. If Google shows your website page in a featured snippet you will have a significant increase in traffic for your site, taking it away from your competitors.
6. Images
Correct indexing based on your keywords, not only will allow you to position yourself high in the search results on Google Images but will also allow you to implement the visibility and overall optimization of your site.
7. Related keywords 
Not only the main keywords will be important, but also the related ones. Reason is semantic SEO and Search Intent optimization also becomes more important .Therefore, it is good to have clear the context of the query, in order to provide more and more relevant information to search engines, through primary and secondary keywords.
8. Local SEO
Especially important if you are a local business owner. Users search on Google, with the aim of finding products or services in their area. Local SEO is becoming increasingly important. The first step in building local SEO for your business is to create a page on Google My Business.
In conclusion
What we can deduce from the trends just analyzed is that the common thread of 2021 will be Consumer is king. Brands that fully understand their consumers and take decisive action based on that will be the ones that survive.
It also heralds a return to basics in many ways: not only rediscover the importance of the consumer experience compared to sales and ROI, but more and more attention will be given also to the ability to listen and real connection of a brand against its consumers.
Author Bio
Name- Raunak Pandey
Bio- Raunak is a Mechanical Engineer by qualification & Marketer by passion. He is the founder of Maiden Stride, a leading digital marketing company that provides world-class search engine marketing services and website & application development.