15 Ways Artificial Intelligence is Helping eCommerce Marketers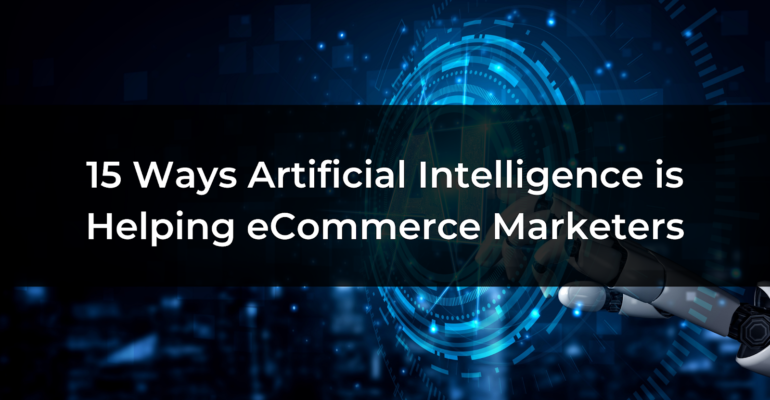 15 Ways Artificial Intelligence is Helping eCommerce Marketers
The retail eCommerce industry is expected to grow from $3.4 Billion in 2019 to $4.8 billion in 2021. According to Gartner's predictions, over 80 % of all eCommerce customer interactions will be handled by AI in the coming years.
With the significant advancements in technology, Artificial Intelligence (AI) is revolutionizing many business aspects. This also includes the rapidly flourishing eCommerce industry. AI is helping businesses achieve more by providing relevant and accurate information to the business owners and marketers. With this emerging new technology of Artificial Intelligence, a lot can be done for eCommerce development.
In this article, we will explore15 ways Artificial Intelligence is Helping eCommerce Marketers to grow the business:
1. Web Analytics Tools
AI helps business owners and marketers to gather and organize data from various places within seconds. The marketers use these resources for multiple marketing aspects, including providing a better user experience to the customer. One way to get this data is through web analytics tools that allow the eCommerce marketers to gather information from their eCommerce websites and make necessary changes or improvements. With this data's help, you can understand your competitors' strategies and their business model, which greatly helps in improving your online presence.
2. Data Analysis and Prediction
AI tools can be used in many different ways. Some use it to analyze data for predicting what product will be highly in demand at a particular time. Simultaneously, some apply it to finding new ways of advertising the product by analyzing the data. Some of them even predict what the target audience will highly visit different types of sites. With the help of the data they have, the eCommerce marketers can easily understand why a particular product is not making any sales.
3. Data Mining
Data mining involves taking data from different sources and finding out profitable trends. Some of the factors considered by artificially intelligent software include the price of the product. Manufacturers and retailers use this type of analysis to determine the right niche for a particular product and whether it is lucrative enough to stay in the market. Apart from this, companies also make use of the information found in the databases of different companies.
4. Customer Segmentation
The most popular AI software programs are helping e-commerce to improve sales figures. The software will allow e-commerce marketers to segment their customer base into different groups, which will enable them to target customers by region, age, browsing habits, and other factors. This is similar to what companies like Pepperjam and Lexmark use to separate customers into different categories for marketing purposes. In this way, marketers no longer need to rely on tons of data entry. They can now access the information they need from one location. They can control and even filter the data they receive at any time.
5. Transferring Data Between Retailers
Data is becoming more important to online retailers. Managing customer data, securing and transferring data between retailers, and analyzing it are things an online retailer needs to be successful. Taking advantage of a tool that enables one retailer to receive data from another retailer allows the retailer to save time and effort and receive real-time data to make decisions. This tactic allows targeting a narrow customer base for specific products to sell online.
6. Voice Recognition Software
How does voice recognition software help E-commerce marketers? One example would be to allow a customer to speak to a live representative. Say, for example, a person calls a company and asks a question about a particular product. If the software has a voice recognition feature, the customer will be able to speak to a live agent, and that agent will be able to answer the question that the person had. In short, the software allows the user to communicate with a company in a way they would normally do.
7. Telemarketing
AI is also helping E-commerce marketers through telemarketing. In today's competitive marketplace, sales are the biggest challenge, and companies need to stay ahead of the competition by any means necessary. By having a sophisticated system, telemarketing can be done effectively without the cost. With the advent of voice recognition software, all it takes is for a sales representative to use it and then say the right thing to get the job done, instead of the old practice of cold calling.
8. Product Search
If you have an eCommerce business, you most likely use a search engine such as Google, Yahoo, or MSN to locate products and services available to your customers in your area. What you may not know is that search engines are not the only place to find relevant information. Artificial intelligence can index the material on the web so that you do not need to search for it physically. Product search is much more comfortable and convenient when you have the right tools.
9. Customer Services
AI helps marketers by making it easy for you to make sure that your customers receive the personalized service they expect. If your website is confusing, does not have enough contact information, or do not provide all of the necessary contact information. You are defeating the purpose of having a website. The best way to keep your customers happy and return to your site is to ensure that they feel receiving quality customer service. To deploy advanced and excellent customer service in your site through AI, hire a suitable ecommerce development company.
10. Search Engine Optimization
SEO is becoming more important to any successful online business. By increasing your visibility in the search engines by implementing SEO into your website design, your business will enjoy a boost in traffic in terms of visitors and overall sales. The same holds true when it comes to content and your target audience. However, without SEO, you are just spinning your wheels. If you don't know how to create good content, how do you know your target audience is even reading your website? Artificial intelligence will help take care of all your SEO needs without hassle.
11. Search Engine Ranking
Search Engine Ranking plays another important role in driving customers to your website or eCommerce platform. An AI search engine system will make sure your website ranks well in the search engines. That way, you will get more traffic and more sales. Additionally, these systems will provide the kind of personalized service your customers are demanding. If you want your business to grow in online marketing, you must consider investing in an artificial intelligence SEO system.
12. Lead Generation
Artificial intelligence has a huge impact on businesses in terms of their overall profits. As I mentioned earlier, SEO can be a difficult thing to master, and when you have a system that makes it easy, you can't afford to lose it. Because of how quickly search engines can index websites, you can gain huge leads from the search engines in very little time. Combine both of these things, and you have a powerful marketing tool that will put your e-business on the map.
13. Business management
Retailers and marketers are turning to artificial intelligence because it makes managing their business much easier. When you use combined marketing tools for your system operations, these tools allow your eCommerce business to run more effectively and with less effort. It is no surprise that many companies are already taking advantage of artificial intelligence in their business operations to better and cost-effective results.
14. Market prediction
Another way artificial intelligence is helping e-commerce marketers is in the realm of prediction. Marketers use this technique to determine whether or not to drop a particular product line. Or they may decide to carry on selling certain items. Again, marketers need to have a much more complete picture of their customer's buying. For example, Google recently purchased the AI company Calico, which makes smart, eye-catching clothing. This is not a step directly towards boosting sales but making AI work for making their websites more efficient.
15. Cost-effective tools
Overall, the best AI tools are those that don't cost too much. They can be downloaded for free from the Internet and are easy enough for any marketer to use. Even if you don't want to purchase the available artificial intelligence software, you'll still find many applications that will make your life easier. These cheap softwares are also useful for increasing your business's profitability without any significant investment in marketing.
Concluding Remarks:
Many companies these days invest a lot of money in research and development. They also spend a lot of money hiring professionals who are knowledgeable about marketing, but AI software's can decrease your load. Your eCommerce business can be enhanced by only using the best available technologies in the market. Hire a suitable website development company that is well versed in the latest technologies including AI.
Artificial intelligence is helping eCommerce businesses all over the world to make more sales and easier revenue. It is truly the wave of the future. Many companies are already taking advantage of AI's power; make sure you are one of them!