Ecommerce Development Guide For Small Businesses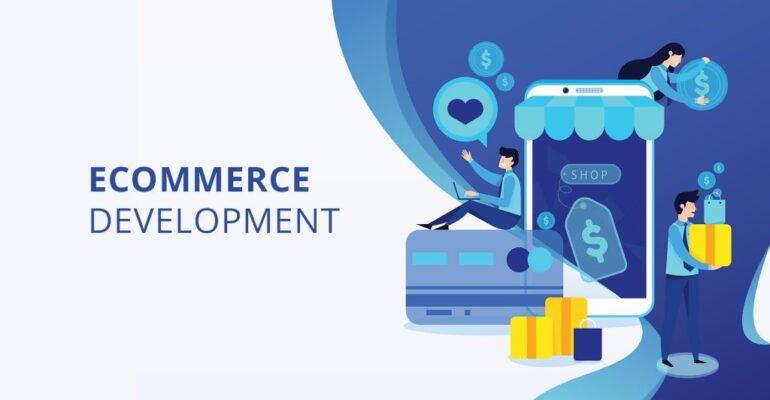 Ecommerce Development Guide For Small Businesses
For both users and company owners, the internet's introduction significantly changed how they interact with each other. Prior to that, consumers used to visit individual stores to buy, and companies had to stockpile everything locally.
Now, the internet has impacted the buyers and retailers' relationship since there are more and more online shopping without anyone ever visiting the stores. 62% of customers say that they browse the web before making an in-store purchase, and multiple surveys back this fact.
Shops with no online business can be hard to keep up with online discounts, quick delivery, and low cost products that others are able to provide to the buyers.
For companies of all sizes, e-commerce development is essential because customers now have numerous platforms available to shop. However, several small companies have obsolete portals for e-commerce.
If consumers use internet research for stores nearby and product availability, small businesses will lose out if they do not have the right digital presence. Moreover, even consumers who prefer shopping in stores can finally follow the online method to research the store as it is the suitable option.
Why do Small Businesses need E-commerce Websites?
E-commerce makes it possible for small companies to keep pace with rivals and have new revenue channels. Creating an online store is relatively simple; small companies only need internet access to manage e-commerce development and shipping processes. Thus e-commerce development strategy will involve less investment than opening a new store at another location.
On the market, there are high-quality, user-friendly options for e-commerce development. With their platforms, the business owners have greater scalability and functionality than most big-sized firms.
Many smaller companies use the same best strategies since e-commerce development providers provide them with the resources and capabilities they genuinely need to grow in this market.
Listed are some of the best suggestions for small and medium enterprises to develop an e-commerce store.
Symphony Commerce
The organization provides a solution to every company to use software as a service. It is the best because the design and the background tasks are unloaded, which are vital in holding an online business. You will then concentrate on key business processes.
Symphony Commerce offers a price-as-you-go service payment system so that the companies know what they need in an e-commerce service and keep adding new ones at minimal extra prices. You may want to use a choice that provides all in one solution if you are new to online sales, and Symphony Commerce provides you with that.
Magento
It is one of the most versatile e-commerce development systems available in the market. Magento gives you the ability to add or retire services to fulfill your individual needs. It is open-sourced, so it's simple to add third party functions.
However, it can be difficult and time consuming for e-commerce retailers to use the Magento development platform as they need in house developers to create an online store based on this platform. But due to its scalability, business owners keep this as their primary choice.
Squarespace
This fully loaded platform is inexpensive and helps you to pick the right theme for your e-commerce web page. Squarespace allows you to add as many add-on products as you want to your retail website, and it provides complete inventory control.
This will enable retailers to sell the same product type with multiple variations without any problem. But this platform is not useful for the optimization of search engines or customer relationship management.
CommerceHub
The cloud-based platform helps in increasing your number of products sold to the consumers. It acts as a marketing and regulation portal that links online dealers to distributors and enables them to be integrated with any product.
An interesting thing to remember about CommerceHub is that it depends on companies already having built a marketing funnel. They allow these companies to expand on existing procurement practices.
Shopify
This framework is a comprehensive platform for building and managing an online business. This Shopify development company is one of the most reputed in this industry. With a robust inventory monitoring system, you can post as many items as you want.
The discount code algorithm and no transaction fees are other significant elements of this system. Shopify has an app store for third-party tools. These can all be quite confusing, but using Shopify doesn't need any technical expertise.
A wide range of e-commerce software services are available to assist you in designing the company's online sales strategy. Once you have defined your needs, you can develop your internet business on a platform and remain competitive in the rapidly evolving e-commerce business world.
Cloud-based systems allow for the adequate management of an online shop without wasted time or money. Or you can start building a successful website without any investment using the Magento development platform.