Top Reasons Why E-commerce Shoppers Abandon Carts and How to solve it

Top Reasons Why E-commerce Shoppers Abandon Carts and How to solve it
Introduction
Why is it necessary to address shopping cart abandonment in your eCommerce store?
Top 7 Reasons behind eCommerce Shopping cart abandonment with Solutions
Insisting all users register or create an account
Unexpected or high shipping charges
Complicated and time-consuming checkout
Lack of Multiple payment options
Limited Payment Security Features
Return and refund policy
Uncomfortable Customer Support
Final Takeaways
Are you an eCommerce merchant looking forward to converting customers to your online stores? If yes, you need to market effectively and reduce the cart abandonment rate.
On average, around 70 percent of customers abandon their carts after adding an item. To make your effort and time valuable, it is always necessary to determine why your store faces a tremendous cart abandonment rate.
But, finding out the reasons will not help you out in improving your sales. Instead, the solutions for the reasons do. Luckily, you are into the blog now!
Let us discuss the top 7 reasons and solutions to reduce the eCommerce abandonment rate in your store without much hassle.
Why is it necessary to address shopping cart abandonment in your eCommerce store?
When it comes to an eCommerce store, there are multiple factors for cart abandonment. Though there are many reasons, the store has to face the complex problem and tackle it sooner. The first step to reduce cart abandonment is to address the issue.
Addressing the issue that creates hypotheses among the visitors helps you to curb the shopping cart abandonment rate. According to analytics, 67 percent of the buyers abandon their carts and leave the store without completing the purchase. It brings an immense loss to the site if they never addressed the problem behind it.
The image helps you know the further reasons that add up weightage to the above point. These may be the reasons that an eCommerce store owner fails to address.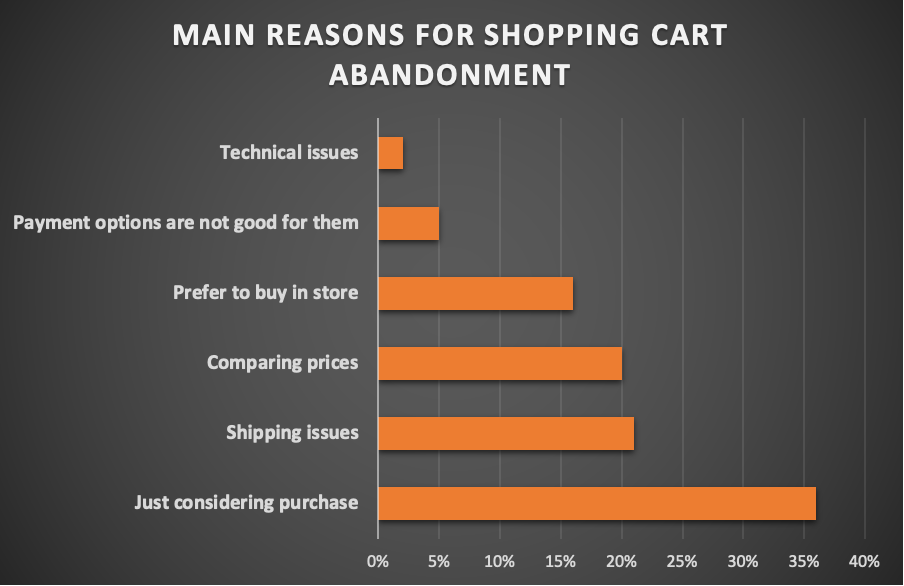 Once the eCommerce store owner finds the actual problem, then different solutions can be created and tested. It helps you determine whether to proceed with the qualified plan that improves the shopping cart abandonment rate.
Top 7 Reasons behind eCommerce Shopping cart abandonment with Solutions
Coming to the point, every eCommerce store falls in different categories according to the buyer's mindset. It is always necessary for the merchant to know where they fall upon—before that, reducing the cart abandonment rate is a hugely beneficial thing that triggers  10x more than the store's sales.
Let us understand and accept the flaws that have to be corrected immediately in any eCommerce store to taste the flavor of increased sales.
Insisting all users register or create an account
Many eCommerce stores do the same thing as yours. They insist the users create a new account to complete their purchase. Even it is a single product, and they need to register and create an account to proceed with the same.
Though it seems an easy process, it becomes tiresome for many visitors. Probably, this may become a valid reason for them to bounce back from your store.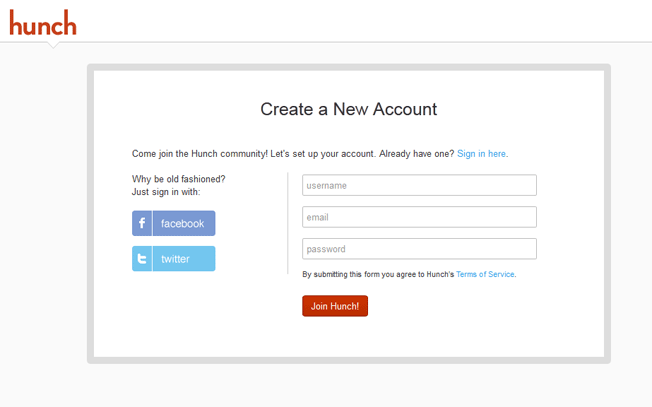 Solution: 
Why not give them a guest user account that makes them a hassle-free purchase instead of creating a new account. Indeed, it helps!!
With the guest checkout option, the users can quickly complete their purchase within minutes without creating an account. They just have to enter their email address. It is more convenient for them too. At times, you can also allow them to use their social media account to complete the purchase.
Unexpected or high shipping charges
According to the Baymard study, almost 60 percent of the shoppers abandon their carts due to increased shipping costs or other hidden charges. Shoppers always wish to proceed with the item they are looking for. But, it is not applicable when they encounter unusual hidden charges or increased shipping costs.
Why take risks when it clearly shows that eCommerce users hate high shipping charges. It frustrates and increases the anger level of the users towards your store. It is not suitable for a startup or a mid-age company. When the user encounters a high charge at checkout, it is not ideal for the store's brand value.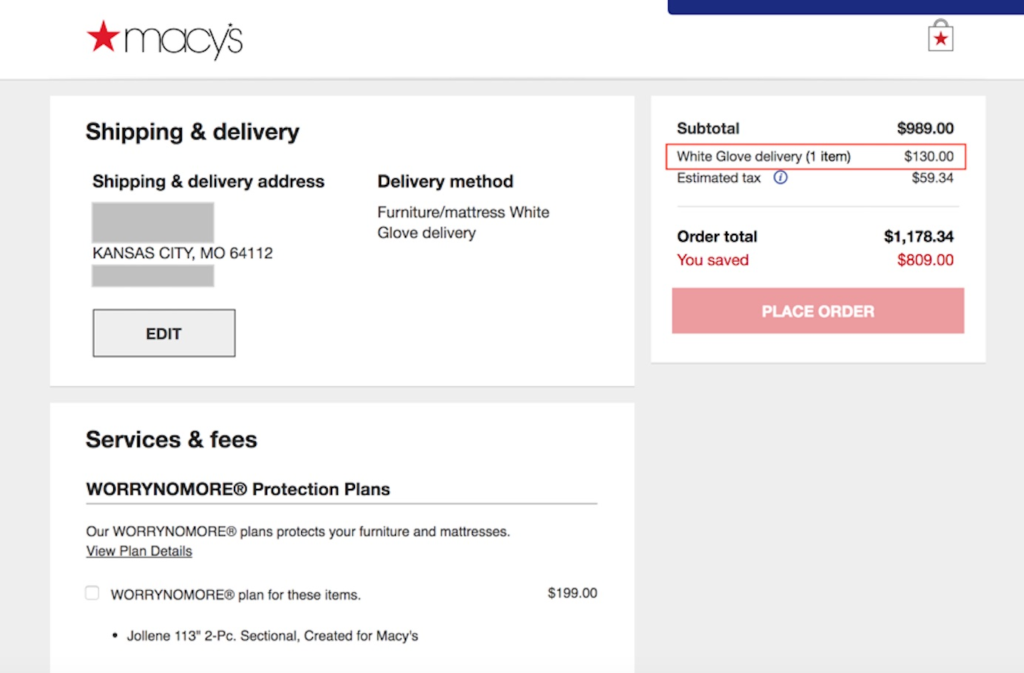 Solution: 
As a retailer, you cannot compromise more on the shipping costs as it may lead to a significant loss for your store. But, it doesn't mean you cannot satisfy your customers with low shipping charges. Set a realistic expectation right from the beginning that makes customers face any sudden hidden charges during checkout. You can also provide free shipping for the customers who have achieved your minimal purchase criteria or loyal customers. It retains them back to your store.
Complicated and time-consuming checkout
People like me always hate hectic checkouts. This falls as the main reason why customers abandon their carts during checkout time. It is also closely related to the mandatory account registration, which we have discussed earlier.
When it comes to the entire checkout process, it is always necessary to focus on the elegant and straightforward. Few eCommerce stores also provide only one mode of the payment transaction that makes the process more hectic.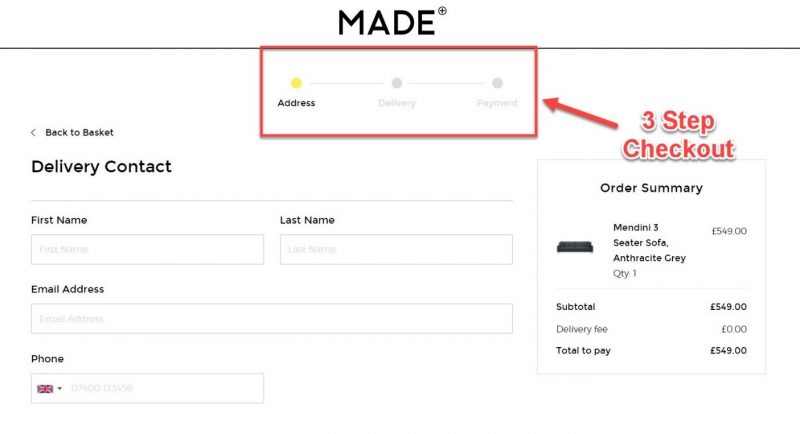 Solution:
Ideally, you can reduce their checkout time in the shopping cart. Remove the fields that are unnecessary and make the customer frown with anger. Instead of driving users to fill in the details, you can automatically fill in the essentials that the user already provides at the time of registration.
You can also set realistic expectations and reduce the strain encountered by the customers. You can also introduce progress indicators that make them know the stage in which they are purchasing. They can also learn about the steps remaining to complete the checkout. It helps them to change or edit things before they complete their checkout process.
Lack of Multiple payment options
After the checkout process, the next phase that the user enters is the payment gateway. Every user wishes to have more than one payment method to make their purchase more manageable. But, the idea to abandon their cart flashes their mind when you fail to add more than one payment mode.
For example, what if a person wishes to use his/her debit card for their purchase, but your store only offers payment through Credit Card. They would bounce back to the other store where they find their preferred payment method.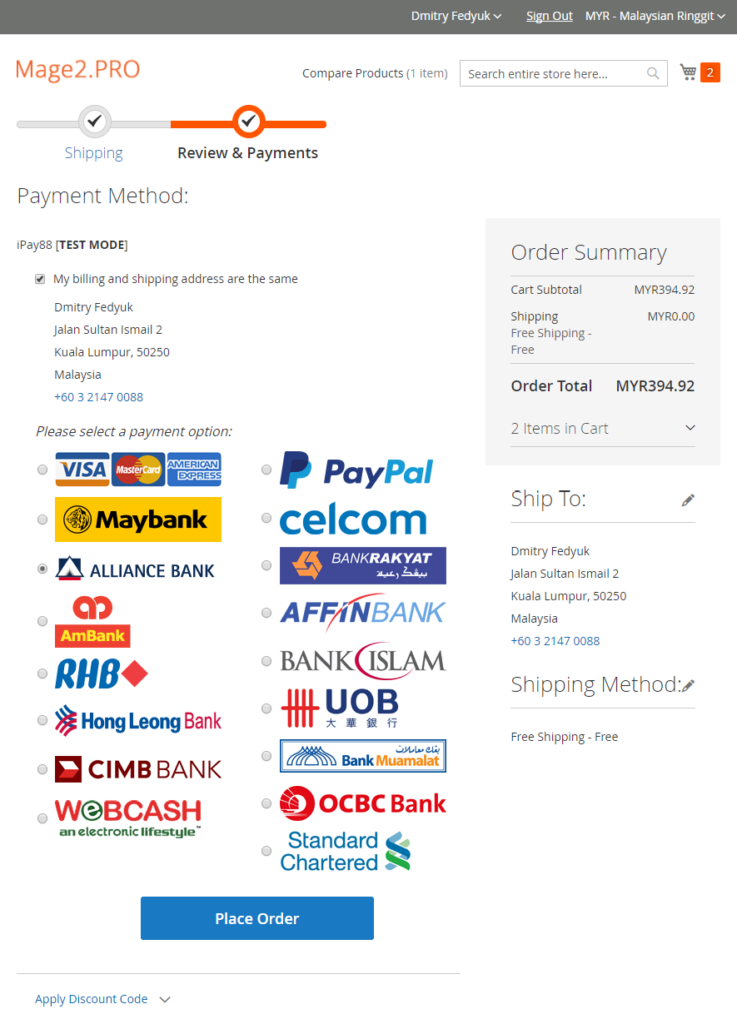 Solution
To tackle this payment problem, it is always necessary to have more than one payment method. Try to research the most probable payment methods preferred by most eCommerce store buyers. For example, if you provide a credit card option, you can give a Debit card and net banking facilities. You can go along with the trend and introduce bitcoin acceptance too. It becomes the most convenient way for the users to complete their purchase.
Limited Payment Security Features
Next to the different payment modes, here comes the top reason why customers abandon their carts. Payment security is the most important thing when it comes to an eCommerce store. Many users are concerned about their account details and prefer not to share with an untrustworthy or a new-age eCommerce store.
Though you have a secure payment gateway with no compromise in your users' payment information, they will not shop in your store. So, trust plays a prominent role in your profit scale.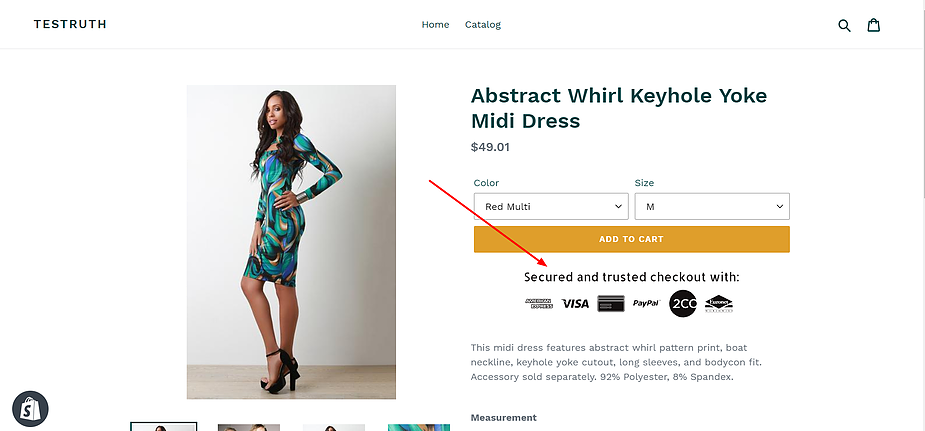 Solution
It is necessary to build trust in your customers about your payment security features. But, how? You can display the payment security trust badges at the checkout page or payment gateway. It helps a lot. Conversion Fanatics found a massive increase in the conversion rate after adding trust badges on the checkout page. Why not try the same in your store?
Display the relevant trust seal next to the CTA button to trigger the customer's anxiety. Run a test before you implement it and determine whether this change helps you in your conversion or not.
Return and refund policy
Almost 66 percent of the buyers wish to get a generous refund and return policy from their eCommerce store purchase. But, many stores have limitations in this regard. You can consider two ways to implement a generous refund and return policy. When you wish to have strict refund policies, it may not help you in your conversion rate.
Simultaneously, when you work on giving flexible refunds and returns, it may help you increase your conversion rate. It also helps you in your referral program and customer retention too.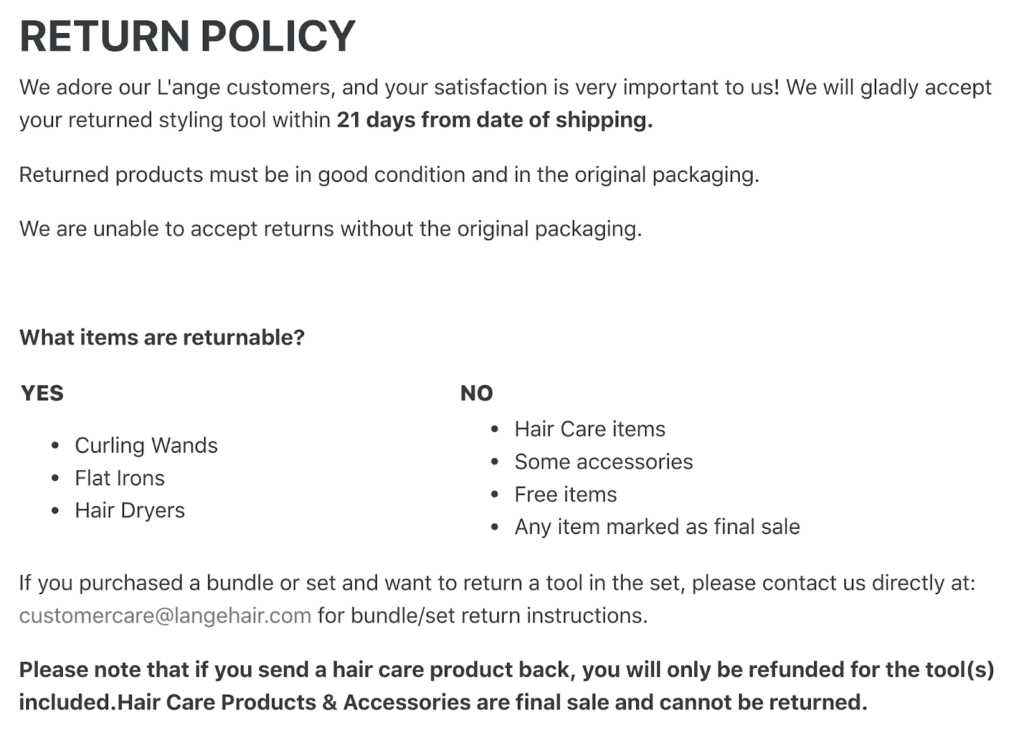 Solution
To bring in flexible returns and refund policy, make sure that you can track the associated refunds and the costs exchanged. If done so, you can offer them free shipping when you are about to have strict restrictions on your refund policy. Compare the added prices and see if the free shipping helps you to boost your sale or not.
Uncomfortable Customer Support
Customer support is the primary key for any eCommerce business. If a user wishes to clarify their doubt before checking out, the customer support team must be there to clarify their doubts. The customers may probably want to know more about the referral program you might have introduced recently. In that case, your polite and detailed attitude may bring back more customers to your site.
But, at times, the users may not get the support they need from the eCommerce stores. Instead of proceeding with the doubts, they bounce back from the store.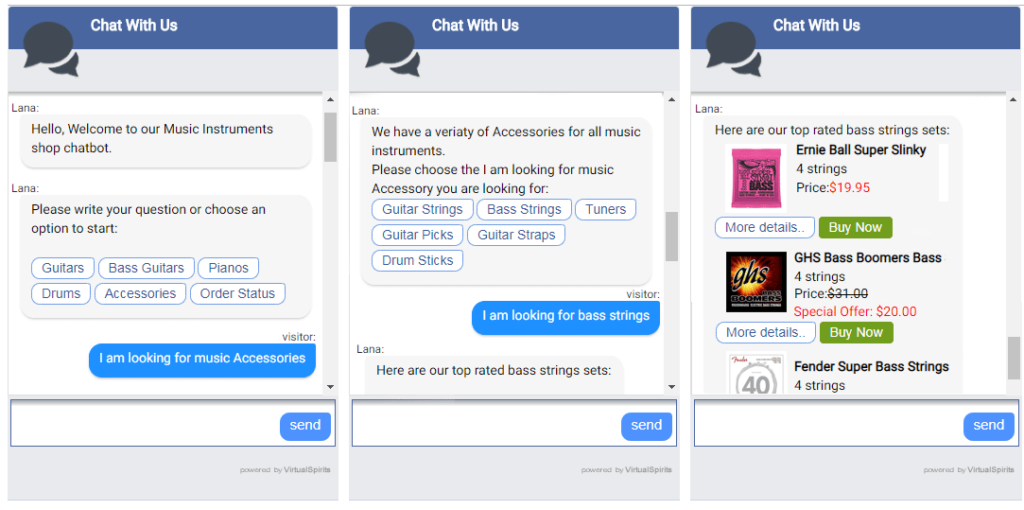 Solution
Try giving 24*7 customer support to the buyers of your eCommerce store. It helps the buyers to get detailed information about the product/referral program/hidden charges/shipping costs/whatever.
You can also introduce a new chatbot in your store that makes the user too easy to contact you without any hesitation. It also brings them a comfortable shopping experience with your eCommerce store.
Final Takeaway
So far, we have been discussing the top reason and its apt solution that brings in a change to your conversion rate. It also curbs the abandonment rate that made you suffer these days. Implementing all these solutions at the same time may not help you recover from your abandonment crisis.
Instead, analyze your store and develop the areas that you are lagging or to be improved. Work on it and apply the respective solutions to experience better results! Get help from a reputed eCommerce development company, hire dedicated developers that will take care of your problems with simple solutions.
Cheers!!