5 Reason to Choose & Upgrade to Paid Shopify Theme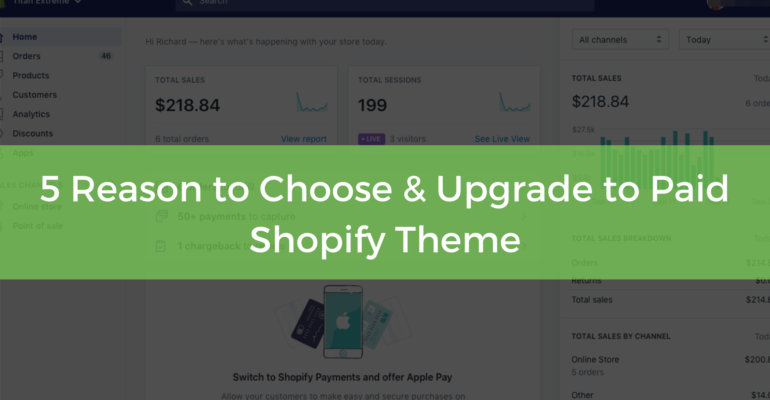 5 Reason to Choose & Upgrade to Paid Shopify Theme
Have you just started your online store and are looking for a way to improve the conversion of visitors to sales?
As you may be aware, the competition in eCommerce development in India is fierce!
With more people turning to the internet to purchase products they need, you will find that online store competition will become fiercer. To stay on top of your competitors, you need to ensure that your website presents your company in the best possible light, which requires a well-designed theme.
Shopify is the most reliable eCommerce solution for any business, and if you are running an online store, it enables you to create a successful one. In this article, you will understand the major reasons you choose a paid Shopify theme over the free sources or upgrade to a paid theme if you already have a theme installed.
The five major reasons for getting a paid Shopify theme is as follows:
1. Huge Pool Of Themes
Shopify is a flexible platform, and you can use any free theme to build your store. But, with a paid version, you can choose a theme that precisely suits the nature of your business from the millions of themes that are already available on the website. You can easily create your store with the help of these simple templates.
Several different factors affect a store's conversion rate, such as the page layout, the usability of the store, customer service, and the design. Hence, Shopify offers a wide range of themes to help you achieve the look and feel you desire for your store. Not only will you increase the number of customers visiting your website regularly, but you will also generate more revenue.
2. Extensive Built-In Features
To add extra functionality to your site, you can develop a custom theme by adding extra modules to upload onto Shopify. Shopify offers live coding and editing so that you can add new features and functions to your site very easily and quickly. With just a few clicks, you can update your website with all the latest Shopify features.
Your paid Shopify theme will resemble that of a real go getter, with a choice of all different colors, images, logos, and much more. If you currently have a Shopify store, you should consider upgrading to a theme. Paying a monthly fee to use the latest features will help you focus your efforts on improving your business.
3. Web Designs:
Having a well-designed store is essential to attract more customers and keep them happy. In addition to your free theme, by upgrading to the paid theme, you will be able to extend your product line. You will be able to gain greater insight into what other customers are finding useful. Shopify enables you to use simple and easy to understand shopping cart software to manage your products.
Paying a professional web designer to design your site is not only expensive but can also go out of the way, so why risk it? Shopify offers numerous options when it comes to designing a website offering the best design solutions. But, if you are not the type of person who can do this yourself, you can hire Shopify developers to develop the right designs for you.
4. Advanced Tools
If you want to maintain a competitive edge over your competitors, you need to ensure that your website is always seen by customers searching for specific products or services. This will ensure that more sales will be achieved over time. To achieve this, it is essential to update your site with the latest tools and techniques to provide a better user experience. One of the best ways of doing this is by using a paid Shopify theme.
You will be provided with complete access to all the tools and resources that you require, along with extensive training sessions to help you learn how to implement all these into your store. Once your store is up and running, you will realize how easy it is to make money online with Shopify, and this will motivate you to continue developing your online store.
5. Smooth User Interface
Most businesses choose to upgrade to a paid theme because they offer more options and customization. You will be able to set up a user interface that is unique to your business and build an effective shopping cart with just a few clicks of your mouse.
If you already have a hosted shop, you can purchase a Shopify theme from the Shopify website. This will allow you to make the necessary changes to your existing site and increase your UI. Your store will run much smoother with a professional Shopify theme, which will improve customer relations considerably.
Concluding remark:
When searching for a theme at a price that you can afford, take the time to browse their portfolio and read through the comments left by previous customers. Any Shopify Web Design company will give you an idea of what they think about the theme, how easy it is to use for good results.
No matter what your online strategy is, it would be best to consider all of the benefits that a Shopify theme provides. If you want to ensure that your site is designed to meet both customers and search engines' requirements, you should consider upgrading your site to a paid version. There are many options available, and you will quickly find that Shopify's themes have a lot to offer. It will also give your business the branding and professional image that customers are looking for.
If you haven't yet invested in a theme, you should consider doing so today. You will not regret the decision, as a professionally designed website with a themed Shopify theme will increase the traffic you attract. With just a few clicks of your mouse, you can make your online store more effective and faster.