7 Steps to Hire the Right Shopify Developer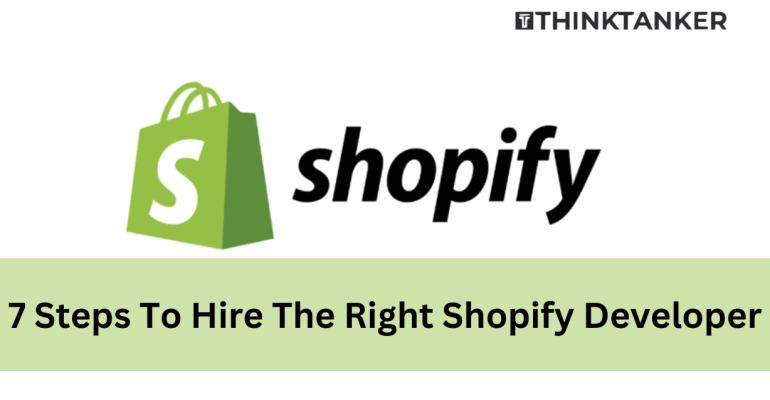 7 Steps to Hire the Right Shopify Developer
When utilised to its full potential, Shopify, one of the most popular e-commerce systems, may generate substantial earnings. Furthermore, only with the help of leading Shopify Programmers will you be able to fully explore all the useful features and find the optimal configuration for your retail enterprise. If you invest in professional Shopify Experts for your company, you'll get the boost you need to stay ahead of the competition. However, hiring the right shopify development company or process to hire shopify developers is not easy.
The Benefits of Working With a Shopify Expert
When launching an online store, there are many moving parts to consider, such as finding the correct product-market fit, locating suppliers, organising stock, and promoting the store.
You should hire shopify developers if you lack the necessary skills to create the software or an e-commerce store on your own.
If you outsource development to a shopify development company, you'll have more time to focus on expanding your business in other ways.
Websites built on the Shopify platform are the sole focus of Shopify's dedicated team of developers. Because of this, they are in a position of superior knowledge and expertise when compared to developers that don't focus solely on Shopify projects. They are familiar with the inner workings of Shopify and are experts in the areas of payment processing, site navigation, stock management, and checkout procedures.
Shopify Experts have expert knowledge of web development standards and can guarantee that your site displays correctly on every screen.
A developer may do more than just make sure your website is up-to-date; they can also add any functionality you need to begin, run, and expand your business.
An expert programmer can figure out how to accomplish your goals regardless of how specific those goals are or how little they are specified.
With the aid of a page-building Shopify tool like Shogun, you can often get the appearance and functionality you need for your site without the assistance of a professional developer. That might help you save money, but if you require more complex or specialised features, or ongoing site maintenance, a Shopify specialist or a team of shopify programmers is worth the investment.
Steps To Hire The Perfect Shopify Developers for your Business
1. Get References from people that you know
When looking for a Shopify developer, word-of-mouth is your greatest bet. It's the most efficient method for locating a competent Shopify professional. A Shopify specialist who has completed tasks effectively for friends, family, and coworkers is likely to be recommended. The local business community might also be of assistance. But be wary and make sure you're looking at legitimate websites and portfolios.
There is no guarantee that the developer you are referred to by a friend or colleague will be the ideal match for your Shopify project, even if they come highly recommended. Portfolio and references need still be checked. Having someone show you their certifications is a good approach to verify their level of expertise.
2. Think About What You Need For Your Project
We should make a list of our project's requirements before we get started. It will detail the steps we need to take, the procedures we must adhere to, and anything else that could help us finish the job. In this way, our duties will be more clearly defined. The only time you should decide what you want out of your company is at the very beginning. In addition, make sure everyone on your team is aware of the goals. The path to success may be paved with the aid of open communication between you and your Shopify developer on your aims and objectives.
3. Make a Budget
Unquestionably, hiring outside help would consume a significant portion of your budget. You should have a well-thought-out strategy in place that might end up being the best investment in your company before committing to any binding agreements.
As a result, you'll need to brush up on your knowledge of business finances, the sum you'll have to pay, and everything else that comes with managing money. Before you begin, make sure you and your developer from shopify development company can be on the same page if you share your projected costs. 
4. Verify the skills of Shopify Programmers
Before committing to a Shopify developer, be sure they have the necessary expertise. The firm should have previous knowledge working with Shopify as an eCommerce platform. Is there any data available on the efficacy of their earlier sites, or the outcomes of their present ones?
In addition, you'll want to have top-notch programming abilities to create a store that can compete successfully in today's industry. Dedicated Shopify developers should be able to do more than just code for Shopify, such as incorporating third-party APIs, expanding the theme library, migrating to Shopify, and so on.
5. Check whether they provide after project support
No one is interested in providing free fixes. Developers that aren't confident in their abilities to get the work done right the first time will not include bug fixes or small improvements in their Shopify bundle.
You, the customer, will greatly benefit from minor updates since they enable you to make minor adjustments to your project at no additional cost. It's possible that revisions have nothing to do with how well the task is done. Changing the wording of a button's "call to action" may be all that's needed.
Obviously, there has to be some sort of restriction. It's common to have a round or two of minor updates. The developer's failure to make even modest adjustments suggests that he expects you to treat each update in appearance as if it were a separate purchase.
6. Communication Skills
Along with the aforementioned factors, you should evaluate the Shopify developer's ability to communicate with you. Effective communication is essential for meeting project deadlines. You need to tell the developers everything they need to know to finish your project. It is also expected that you would be updated regularly on the project's development.
You may also probe them on more nebulous qualities like their problem-solving prowess, their decision-making chops, their outlook, and their flexibility. All of these things are necessary for the project to run well and be finished on schedule.
7. Take your Time to Make a Final Decision
When hunting your perfect Shopify developer, be prepared to give enough time hunting for the right professional. Most probably, you will need to make a pool of professionals and then set the interviews to select the most fitting one. However, if you make the right choice, you will get your project done quickly, effectively, and with no headache. Therefore, the prolonged and detail-oriented process of hiring a Shopify developer is definitely worth a result of the successfully completed project. 
Conclusion
In conclusion, It's not simple to set up an online store using Shopify. Many things need to be kept in check in order to follow the most recent developments and trends. Expertise in this area is necessary, as are the related skills and knowledge. A good method to save time and energy is to hire a professional that is well-versed with Shopify. Keep in mind the above seven most important steps so that you can easily hire the right shopify developers for your company.