Why Should We Choose To Outsource React JS Development?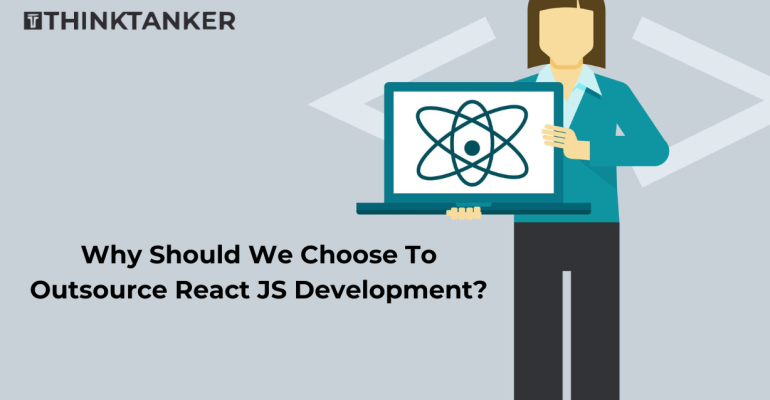 Why Should We Choose To Outsource React JS Development?
Just a few short years ago, social media behemoths like Facebook and Instagram were among the most prominent users of ReactJS. However, because of its great scalability and adaptability, this technology is currently trending among startups and large enterprises. 
ReactJS is a JavaScript library for creating user interfaces, in case you were wondering. Due to its ability to facilitate the development of highly responsive and extensible user interfaces, ReactJS is being adopted by a wide range of large organisations including Facebook and Netflix. Thus, React Js is beneficial and will be beneficial for many businesses. Let us understand the benefits of outsourcing React Js Development to React Js Development Company or React Js Programmers.
Top Reasons to Outsource React Js Development
Affordability
Companies often choose to outsource their software development processes rather than build an in-house team since it is more cost-effective.
This is especially true for outsourcing projects to a foreign country. The idea behind this approach is to take advantage of the gap between what people in developing nations and those in affluent ones pay for basic goods and services.
New York and London, for example, have far higher living costs than nations in Eastern Europe like Poland, which have proven themselves to be dependable outsourcing choices. In areas with a lower cost of living, developers may often get by on a smaller pay while still making ends meet.
Payscale reports that the average annual compensation for a React developer in the United States is $94,000, whereas in Poland it is just approximately $23,000.
If you're a startup or a small/medium firm on a limited budget, outsourcing software development allows you to save money while still getting high-quality results. One can hire react js developers from Asian countries especially India at cheaper prices. 
Provides Multiple Reliefs to In-House Team
The lack of available funds is an additional issue for smaller businesses. Work quality will suffer if staff are expected to do too many tasks at once. Under stress, some of your staff members may decide to leave you.
Outsourcing React development allows in-house staff to concentrate on what they do best: running the business. As a result, the company's return on investment will rise and productivity will rise alongside it. The cost savings achieved via these measures can then be redirected to other, equally important areas of the business.
You Get Flexibility and Scalability
When compared to an in-house programmer, an external team provides greater operational freedom. By using a remote staff for seasonal tasks, you may keep timelines and budgets more strictly under check and avoid paying them year-round.
Outsourcing React development services is useful for expanding enterprises since it allows for expansion. In this scenario, you have the entire freedom to make decisions devoid of risk, alter the composition of the team as needed, and even end the partnership once the project is complete.
By hiring outside react js programmers, you free up your staff to focus on more strategic endeavours that will help your company grow. This ensures that profitable possibilities are not missed and that development processes continue to function efficiently.
You Will be Able to get Higher Experience at Lower Prices
It may be quite pricey to hire React Js developers with extensive expertise, several skill sets, and a deep familiarity with all of the development tools available for React. A distant crew can provide the same services at a much lower cost. Outsourcing businesses that specialise in react development typically employ highly competent react.js developers that have both extensive industry expertise and their own set of best practices.
They will have experience working with a variety of firms and projects, ensuring a well-rounded skill set. A diverse group of outsiders can collaborate effectively on all phases of the project, from conception to completion. It might be challenging and costly to assemble a team with all these skills in-house.
Hire React Js programmers that Keep Themselves Updated
Constant technical progress is the lifeblood of the reactjs development company. As a result, reactjs experts need to continuously upgrade their skill set. People from all across the world are working together, making competition fierce.
When hiring internally, you are limited to residents of the area or must provide relocation incentives to attract candidates from outside. However, if you want to outsource React development services, you may find and hire developers from anywhere in the globe who possess the necessary expertise.
Ease of Working
Creating original code takes longer than working with an established framework. That's why it's best to hire professionals that specialise in React.js development so that the work can be done more quickly.
Additionally, a comprehensive understanding of front-end technology is essential for such initiatives. This is a task that must be handled by seasoned reactjs programmers.
Offshore ReactJS engineers' familiarity with a wide range of tools and frameworks allows them to build robust, scalable applications. There is no project too big or too little for the offshore React development teams to tackle.
They'll handle everything from code quality to design implementation to bug fixes to testing, saving their clients a tonne of time and energy.
Low Administrative Costs and Tasks
The time and effort spent on administrative tasks might be reduced when you outsource ReactJS development services. Hiring a development team who focuses solely on ReactJS will save you time and effort in the long run.
In this context, "project management" might encompass a wide range of activities, from negotiating contracts to scheduling milestones and settling financial obligations. If you choose a reliable ReactJS development Company, they will handle all of these concerns on your behalf.
Rapid Delivery Cycle
When working with a remote ReactJS development company, business owners have the option of establishing a deadline. There is usually a deadline in the contract that must be met or the company risks financial penalties. In this method, you can guarantee that all of your development chores will proceed smoothly and that your delivery will occur on time.
If time is of the essence, the agency should be able to bring in more hands without requiring you to pay them separately. The development cycle time may be shortened even more because you won't have to invest time and energy into recruiting, employing, and training new employees for the short-term project.
Conclusion
Employing ReactJS developers or a React Js Development Company is the most efficient approach for project managers and Business owners to get development services. You may stop stressing over building a website or app and instead put that time and money towards growing your business.