7 Proven Ways To Reduce Shopping Cart Abandonment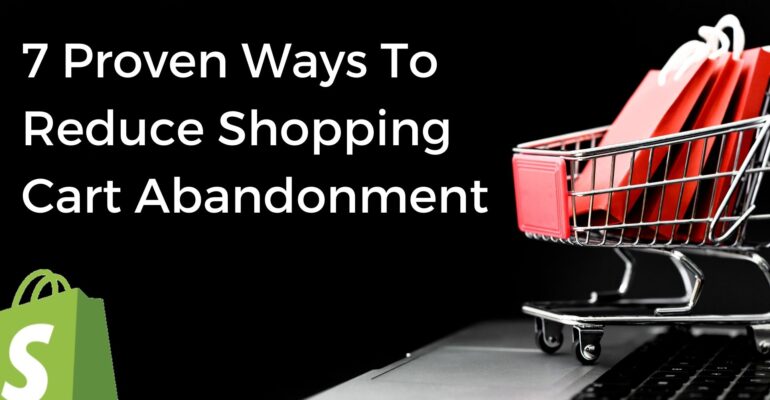 7 Proven Ways To Reduce Shopping Cart Abandonment
Shopping cart abandonment is one of the most heartbreaking aspects for any online business owner. Every month owners lose huge business because customers decide to leave the purchase journey halfway for multiple reasons.
The pain of watching your customers leave the shopping cart in between hurts both small and large businesses alike. In 2018, Fresh Relevance reported a 56.82% of Cart Abandonment Rate all over the globe. With this statistics, it's no surprise that more than half of shoppers never complete their shopping purchase.
Well, there will be few customers that never intended to purchase in the first place but you can certainly improve your eCommerce experience for users to reduce and mitigate the shopping cart abandonment. It might sound like a tough idea but is not impossible to achieve.
The good news is we are here to help you, read through this article to follow a few basic tips to see cart abandonment rates drop on your eCommerce platform. Here, we're about to introduce 7 proven ways to reduce shopping cart abandonment.
But first let's brush up the basic…
What Is Shopping Cart Abandonment?
Shopping cart abandonment is an event when a potential shopper starts a check out process for a desired product but leaves the process before placing the order. Long story short, any product that is put in the shopping cart but fails to complete the transaction is "abandonment" by the potential customers.
Shopping Cart Abandonment Rate (SCAR) is calculated as the total number of successful orders placed divided by the total number of products that customers were interested to buy but not placed. This rate depicts the potential customers on your eCommerce platform interested in some product but failed to complete the purchase.
As an eCommerce platform owner, you must keep an eye to this rate to keep track of potential customers and initiate strategies to improve the transactions. The abandoned cart is directly proportional to reduced sales and revenue.
Now, let's go through all the popular plugins and latest practices for reducing shopping cart abandonment.
1. Customized Exit-Intent Plugin
A discount exit popup is one of the best features to lure customers. This feature gives discount offer pop-ups that stop the people who are about to leave your store. In case, your potential customer feels that your products are comparatively expensive and are about to leave, give him a discount!
Exit Intent plugin will decide the correct timing to flash this Exit Popup that appears attractive to customers for saving a few extra bucks.
What does this plugin do?
Detects when they are about to leave your platform and shoot a popup at the right time
This popup is shown only once per session to look desirable
Makes a list of subscribers from a website and offer them discounts through emails
You can redesign the text, image, and discounts very easily
This popup is customizable and not shown to every customer
You can use this pop up to incentivize your shoppers with impressive coupons and discounts.
2. Inactivity Sensor Plugin
Every smartphone user has their phones loaded with so many apps and the app notifications constantly drive the attention of the user. It's natural for the users to get distracted by pops ups, notifications and reminders.
It's okay for your shoppers to forget their shopping list and waiting cart but it's your responsibility to bring them back. Your goal lies in refocusing the attention of the customer back to your store. The inactivity sensor triggers the popup if the user has not returned to the store for a certain amount of time.
You can decide the time interval for the customers to set the sensor for discount codes and offers. You can re-engage your customer with a simple pop-ups reminder that will increase the possibility of the customers making the pending payment for the products they forgot in cart. There are many shopify development company that can help you to install this plugin if you don't have any idea about the Shopify.
3. Social Proof Plugins:
FOMO (fear of missing out) is one of the striking customer behaviours nowadays. You need to make your customers realize what people of the same age group or interest group are buying in real-time. The social proof will drive the customers to purchase the trending products to be a part of the latest trend.
Social proof Pop Ups will show your visitors that you're an authentic and reliable store. It reflects that people trust your store and all these people want to purchase these products. The positive response of your existing customers towards your store can assure the new customers to try your store.
4. Personalize Your Messages:
Some customers get annoyed by the load of irrelevant pop-ups. This can ruin the user experience (UX) at large and the visitor might never visit your store again. Hence, it is of utmost importance to personalize your messaging campaigns to communicate the relevant information with your customers.
Address your customers by name, location, their specific interests based on how they've interacted with your site. With smart plugins, you will be able to interact with your customer for a more personalized experience.
You can design customized messages/ emails for your customers before checkouts that will strengthen their faith in your store and reduce the cart abandonment rates.
5. Conversion Pro Plugin:
Conversion Pro plugin will trigger sales pop-ups to create a sense of urgency to buy in customers. It shows your customers the products they have bought recently and what an amazing experience that had. It builds trust and social proof for the customer to shop again.
This plugin involves:
Stock Countdown Bar
Countdown Timer/Clock
Add to Cart Notifications
Quick View Pop-Ups
This is a great way to convince your customers to shop again from your store.
6. In- Cart Incentivize
Everyone loves free stuff and your job is to make customers realise they are always getting something free of cost. Adding small features like free shipping or gifts or festival discounts will increase the number and amount of products customers buy.
You can use this plugin to push the customers cart to a target value by offering:
Free shipping
Gift with a minimum purchase
Sale discounts
The In-cart Incentivizer makes your customer realize how they can receive better profits only if they add a few more items to cart, to fulfil the minimum cost criteria.
7. One-Click Checkout Plugins
As you must have already noticed, visiting the cart page increases the customer's time to check out. You can use one-click checkout plugin to replace your standard page with a single popup display. This pop up display the items added to the cart every time customer adds something to the cart or click on the cart button.
Also, offer your visitors the 'Buy it Now' button alongside the "Add to cart" button for an easy option to check out immediately. With this plugin, the customers can select if they want to surf more or save time with a fast checkout.
Concluding Remarks:
We hope your eCommerce store benefits from the tips above to reduce the shopping cart abandonment significantly. Try to implement these tips and plugins to achieve lower shopping cart abandonment and higher revenue for your store. To save your cost of shopify development, you can hire shopify developer from ThinkTanker.