Magento Vs Shopify: Which One is Best for eCommerce?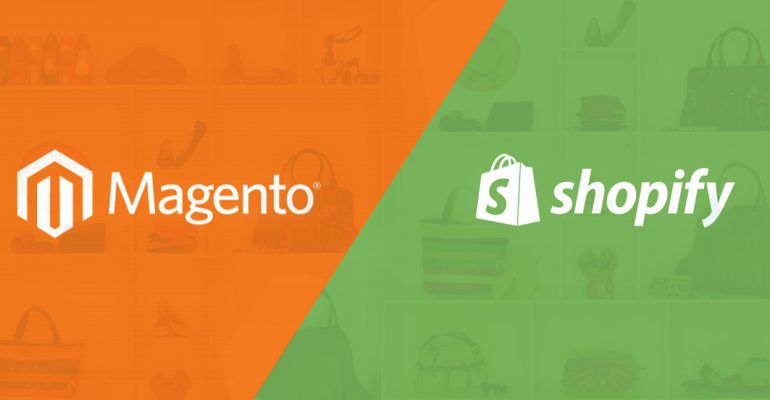 Magento Vs Shopify: Which One is Best for eCommerce?
Picking among Magento and Shopify? You're not the only one. Magento and Shopify are two of the most well known ecommerce  stages available today, and the 'Magento vs Shopify' banter proceeds.
Shopify is for anyone who is willing to pay a monthly fee for ready to use layout of services without the need to code. With ready to use themes and options for a custom theme for its store.
Magento is an open-source e-commerce platform which is free. With the need to create and  develop the online store, Both magento and shopify are great options for an e-commerce store. But which one suits your store profile will be based on your resource, skills and vision.
Numbers say a lot about any platform we wish to know, gives a general idea of the repo they set in the market. More than 250000 sites 5000 apps and add ons while platform being free but themes with a price upto 500$, On the other hand shopify has 600000 sites powered on online webspace. With 200 add ons and monthly prices starting at 30$-2000$ and plus in some cases. If you are looking to build custom shopify sites as per design then you need to search for Best Shopify Development Company.
Magento comes with a host of features in comparison to its close competitors. One such name is Shopify. The e-commerce platform comes with different subscription plans to match your needs. It also has an enterprise solution, wherein, the amount differs based on your requirement.
While most of the audience goes with the subscription plans to avoid the one-time cost incurred on having an enterprise solution. However, with the growing commerce, the needs change and time comes to either upgrade or migrate.

Shopify
With a number of mobile shoppers worldwide, many even just research their shopping needs through a mobile browser, where shopify themes are optimised for all device screen sizes. Shopify has an app store where there are apps to extend functions of an online store, with no need to integrate comprehensive code. Also shopify is having a support for the service they provide for your store whenever there is need. With a community that build webstores, where a number of integration will lead to a complex space for your store. With a fee on transaction per sale.
Magento
As long as you know how to code there is no limitation on the architecture of your store. Magento is free and open source software.
Magento requires a great coding experience and could be really hard for a non technical person to work on such a platform and it could get expensive to hire a professional from that industry. It takes a great amount of time investment to make your store run smoothly. Cost is a factor that should be considered as cost would be hiring a person for development and hosting your site.

Ease of use
Shopify
Shopify is a one-stop-shop, intuitive web designer. This implies you can without much of a stretch tweak your store by moving components around the page precisely how you need. It gives all of you the instruments you have to fabricate your online store, so you'll be selling on the web in the blink of an eye by any means! In our testing, nobody scored it under 4 out of 5 for 'convenience', and 88% of them would prescribe it to other people. With Shopify you can Effectively embed custom pictures into your subject to customize your store and make it vital to your clients. Redo the look of your store to grab the attention of online customers with easy payment setups.
Magento
There are lots of technical terms all over the place that can be a bit intimidating to the less computer-confident among us.This means there are more potential stumbling blocks to navigate for the first-time user. Magento is a really flexible platform allowing you a lot of freedom, but this does come with considerable added difficulty.As Magento is open source  you'll need to learn at least some code in order to take advantage of its full functionality.If you get stuck on Magento, they do have pretty extensive user guides that take you step by step through tricky processes. But a bigger community of magento guides well in hour of need.
Before signing off
Both Shopify and Magento share an inevitable space in the industry. However, what differentiates them is the size of business and its technological needs. While Shopify has everything to match the expectations of start-ups and small brands, Magento flawlessly serves enterprises and helps them grow in the ultra-competitive market. These were some of the reasons that make Magento a preferred e-commerce solution for enterprises. 
| | | | | | |
| --- | --- | --- | --- | --- | --- |
| Established | Suitable for | Customization | Visual Potential | Integration | Business model |
| Shopify 2004 | Small scale | Limited Functionality & Customization | 100+ Ready Themes | 200+ free and paid extensions | Subscription |
| Magento 2008 | Medium & large scale | Deep Customization & Personalization | Unlimited Flexibility in theme design | 5000 + free and paid extensions | Open source and commerce editions |