How to Reach Smartphone users through your eCommerce Business?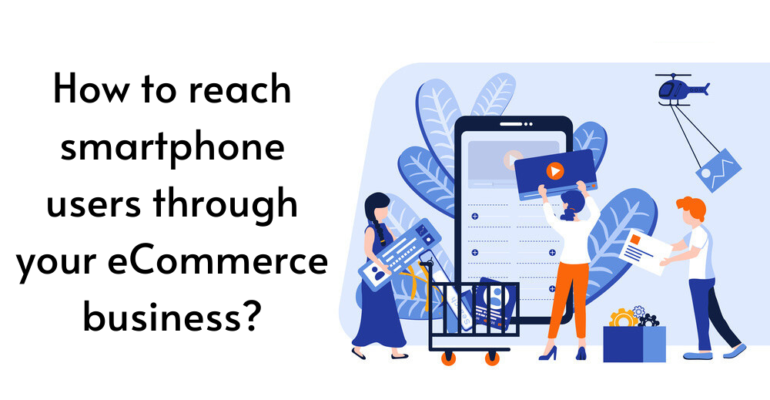 How to Reach Smartphone users through your eCommerce Business?
Today, online businesses are very popular around the world, and eCommerce websites have become the new normal. If you are also impressed with the immense benefits of eCommerce websites and trying to build one for your business, then you can start with the right strategy. Developing an eCommerce website requires a lot of effort and proper planning. Your eCommerce website development project can only be successful if you follow a perfect approach for it. Moreover, eCommerce websites should not be compatible with different web browsers but it should also be accessible from varied devices broadly desktops and mobiles.
By creating a responsive website, you can ensure to reach the maximum number of users as your eCommerce website will be completely accessible to both smartphone users and desktop users. Nowadays, most people don't shop using their desktops instead they shop using their smartphones. Thus mobile devices have become the most prevalent go-to platforms for shopping.
What makes an eCommerce website mobile-friendly?
Depending on the type of platforms that websites can be loaded upon, we can divide them into two broad categories: responsive and non-responsive websites. Alternatively, we can also call these websites, mobile-friendly and not mobile-friendly. But exactly when a website can be regarded as a mobile-friendly website. A mobile-friendly website is a website that is optimized for mobile devices. It means its layout, content, speed, and other attributes are adjusted to meet the specific requirements of mobile devices. Hence, your website will be responsive or mobile-friendly once you optimize it for mobile devices.
Why do you need a responsive website?
Having a responsive website has become necessary today to get the most out of your business. Here are some compelling reasons why you should have a mobile-friendly eCommerce website.
Wider reach
The most important benefit of having a mobile-friendly eCommerce website is the wider customer reach. It means a responsive eCommerce website lets you reach more people than a non-responsive website. This is because, in addition to desktop users, your website will also be accessible to smartphone users that will extend your consumer base.
Cost-effectiveness
A responsive website is more economical than a website that has multiple versions divided to meet the specific requirements of smartphone and desktop users. Having separate websites for desktops and mobile devices is really cumbersome and cost-intensive. Thus you can save large sums of money by investing in a responsive or mobile-friendly website instead of having two different websites for both platforms. Thus if you include responsiveness in your eCommerce website development plan, you can save a lot of costs and create a single site for all devices.
Ease of management
Managing a single website is easier than two at a time. By having a single responsive website you don't need to have two separate websites that reduce the burden of managing multiple websites, you can simply focus on a single site.
Advantage of SEO
Another crucial benefit of a mobile-friendly eCommerce website is that search engine Google prefers these websites. So eCommerce websites have a higher ranking on search engine results pages than non-responsive eCommerce websites. Hence, to get a good ranking on the search engine results pages, you need to have a responsive website. You can choose the right eCommerce Website development company that will create a responsive eCommerce website for your business.
How to optimize your website for mobile devices?
We have seen various benefits that eCommerce websites provide to businesses in the above section. Now a question arises about how should you optimize your eCommerce website for mobile devices to ensure greater benefits out of it? Here are a few tips to help you create a mobile-friendly website.
Use the right tools
You should start by choosing the right eCommerce website development platform that lets you create responsive websites. There are plenty of eCommerce platforms like Magento, WooCommerce, Shopify, PrestaShop, etc, and most of them allow you to create responsive eCommerce websites. These platforms provide varied responsive website themes that you can choose for your website to create mobile-friendly websites.
Prefer mobile-first layout
Make sure that your website's appearance and navigation is optimized for different devices. It means no matter where your website is loaded it will provide the best user experience. Hence you should ensure that your website has a layout and structure which provides a pleasing appearance on both mobiles and desktops.
Get the best user experience
The best thing that you can do for your website users is to provide a greater experience to them. A responsive eCommerce website makes it easy for you to cope with different users with a single website. So one website will render on both desktops and mobile devices while providing the best user experience to both of them. By including responsiveness in your eCommerce website development strategy, you can ensure to deliver optimum user experience across different devices.
Speed is an important factor
How much time is your website taking to load on a device? Is it taking too much time to load? When it comes to websites, speed is always an important factor. A website that loads very slowly will barely have any user. Not only do fast-loading websites provide a pleasing user experience, but they also help in improving ranking. Hence, you should ensure that the loading speed of your site is satisfactory.
Social media integration
Although social media doesn't have a direct impact on your mobile optimization process, it is helpful to boost mobile adoption. Smartphones have become the primary gateways for connecting to society through varied social media accounts. By integrating social media buttons on your mobile-optimized website will make it easy for people to share content on social media directly from their mobile devices. Thus you can take advantage of social media integration in your website to improve user experience. Look for an eCommerce development company that can optimize your website's mobile devices and create a website that loads on every device smoothly and attractively.
Final note
Today online shopping has become prevalent around the world and new eCommerce websites are arising globally. If you are also pondering developing an eCommerce website then you have to follow a perfect strategy. You need to ensure that your website is not only accessible through desktops but also via mobile devices. This kind of website gives reach to mobile users to maximize your sales and profits. If you are planning for eCommerce website development then you should not forget to optimize your site for smartphones. You can reach smartphone users by creating a mobile-friendly website.
Emily White is an experienced eCommerce developer who is working at CSSChopper which is a prominent eCommerce website development company. Emily is a passionate web developer as well as likes writing articles and blogs when she gets some free time. She aims to provide information and spread knowledge through her articles and blogs.