How to Get Your Online Store Rank Higher in Google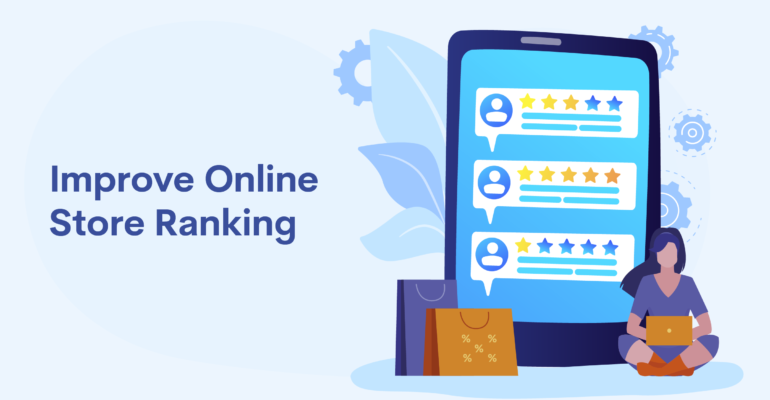 How to Get Your Online Store Rank Higher in Google

Are you struggling to get your online store rank higher in Google? SEO is a slow form of marketing. However, as you know, Google gets millions of visits in a day, giving you the opportunity to convert each reader into your customer, it is worth investing your time in optimizing your online store for SEO.
Building your site according to Google algorithms, posting quality content regularly, spying on your competitors, ensuring that your site is mobile-friendly, etc., are great ways to get higher rankings in Google.
Let's dig into the tips one by one.
Learn the Google ranking algorithm
Google's algorithm keeps constantly changing. No wonder 40% of marketers say that changing search algorithms is the most significant hurdle to SEO success. Google has a mission to organize the world's information and make it accessible and useful to the world. Thus, it keeps constantly updating its algorithm.
In such cases, resources such as Moz's Google Algorithm Change History, Google Webmaster Central, and The Webmaster will help you to learn about the updates of the Google ranking algorithm.
Implement the right SEO techniques
Since Google algorithms keep updating, you have to be very cautious while you optimize your website. One of the best ways to get ranked higher on Google is implementing the right SEO techniques on your website. It will enable you to maintain SERP rankings.  
Creating great content, making targeted outreach, and a value-added proposition will give you links.
When your website has great content, it will automatically boost Google rankings. Great content directly increases your domain as well as page authority. Make sure that you are writing high-quality content that adds value to allow Google to rank your site.
Additionally, researching what your competitors are writing and trying to outdo them will allow you to offer a value proposition to your clients.
Look for broken links
If you have broken links on your website, they will severely hurt your rankings with Google algorithms. It will give a bad user experience and negatively impact search engine algorithms, thus resulting in low conversions.
All your SEO efforts are going to be wasted if you don't look for broken links and fix them. You can either remove or re-create the links by updating your content with the dead links.
Increase website loading speed
As per stats, a one-second delay in page load time will decrease your conversion rate by 7%. You can work on increasing your website loading time and offer a better user experience by optimizing images, reducing redirects, using a content distribution network, using improved development methods to fetch data, deploying faster servers, and so on. 
Implementing these strategies will reduce website bounce rate and help your site score in Google.
Optimize your site for mobile
Google's algorithm will give a higher ranking to mobile-optimized websites.
If your site isn't optimized to offer a fast and seamless mobile user experience, apart from being penalized by Google, you'll also miss out on factors that could improve SEO, like low bounce rates.
Make sure to cover all these avenues to optimize your e-commerce site for mobile:
Work on improving your page load speed
Design your site following the best practices to make your site SEO-friendly
Fix broken links
Improve layout and formatting to make your site user-friendly
Avoid homepage duplication issue
It's worthy to note that Google uses the time users spend on your site to measure your content's relevancy. Thus, create your pages in such a way that visitors get encouraged to stay for a long time.
Build inbound links
Building links can improve SEO by showing Google that your content is relevant. You can link out to other websites and also have other sites link to your pages.
While building inbound links, note that they will affect your SEO ranking. Try to find sites with high authority, high SEO ranking, optimized pages, and relevant anchor text to gethigh-quality inbound links.
Putting several links on low-quality sites will not fetch you the desired high-quality traffic. Moreover, you can get penalized by Google.
Though it takes time and effort, link building can get your website in front of the right audience and increase your rankings.
Some good ways to build high-quality inbound links include:
Submitting articles on high authority sites
Asking influencers to review your products and linking the review to the product pages
Getting email influencers and requesting them to share your content on social media
Seeking press opportunities
Build outbound links
Building outbound links can also positively impact SEO as they will give Google contextual signals to determine your pages' relevancy.
Outbound links will increase your content's relevancy by linking to valuable resources that will offer your readers in-depth and useful information.
Try to link to sites that are related to your content's topic and your product nature to boost SEO. You can tell the site owners when you link to authority sites so that they can share your content and fetch more traffic to your website.
It will also open doors for guest posting or getting your products or content featured on these sites. Note that too many outbound links can distract and make readers leave your site.
Implement semantic keyword research
Instead of giving importance to words and phrases, search engines look for topics, meaning, and intent. Google emphasizes more on semantics.
So you should be focusing on the broader meaning of your pages and indicate relevance by making use of semantic keyword phrases in your content.
You can look at the bottom of a search results page to discover the words and phrases that are semantically linked to the targeted phrase.
Wrapping-Up
Getting your online store to rank high in Google isn't easy. It usually takes a lot of time and effort.
But by implementing the right strategies, you will finally get there.
To summarize, here's a list of all the tried and tested ways to optimize your online store and rank for Google:
Learning the Google ranking algorithm
Implementing the right SEO techniques
Fixing broken links
Increasing website loading speed
Optimizing your site for mobile
Building inbound links
Implementing semantic keyword research
Follow all these strategies accordingly to match your own business requirements, and you'll see positive results in no time.
Author bio:
Aanya Rachel is the Content Manager at The Address coworking space in Vadodara, Gujarat. She is passionate about sharing her knowledge, experience, and extensive research in this field. She writes on a wide range of topics related to coworking, growth of remote workers, startups and real estate.