Hire Shopify Expert Agency – Why, When & How You Should Hire?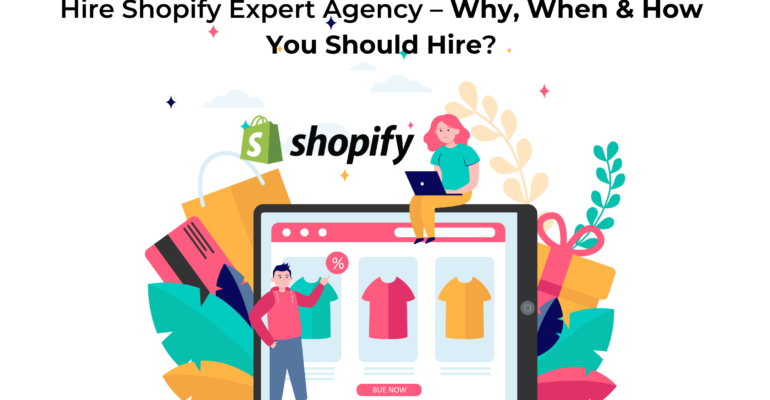 Hire Shopify Expert Agency – Why, When & How You Should Hire?
Are you wondering as to why you need to hire a Shopify expert Agency for your online business?
Well, it may seem very easy for anyone to make money on the internet nowadays. But the truth is that it takes a lot of hard work and dedication to get to where you want to be. Most people who start their online business fail not because of bad services but because they do not have the knowledge and experience to run an online store efficiently and effectively.
If you do not have the right amount of knowledge about how online shopping works and do not know which platform is best suited for your small business, it will be a huge waste of your business's time and money. Hence, if you lack the expertise to run an online store, hiring a Shopify expert agency might be a better idea.
This article will explain why, when & how you should hire a Shopify expert agency for your online business.
Why Hire a Shopify Expert?
You might be thinking that there are many efficient eCommerce platforms available out there and you do not need to bother about which one to choose. However, this is not always the case. As the number of online businesses grows, competition is stiff, and it is getting harder to survive in such a competitive environment.
To survive, you need to have an online business plan that clearly lays out what you intend to do and how you will do it, and this will require you to understand the ins and outs of eCommerce and all of its components.
1. Complete development solution
The most important reason you should hire Shopify experts is that they provide you with a comprehensive and complete eCommerce solution. These are service-oriented agencies, and they will help you get everything together end-to-end. From the design and development to the online store itself, everything will be under the Shopify developer's services. You do not have to worry about learning how to develop and manage your store. Instead, the professionals at Shopify will take care of this for you.
2. Search Engine Optimization
Secondly, if you want to save money and if you aim to achieve success quickly, then you must focus on one thing only – marketing and advertising. If you wish to become successful online, you must market and advertise your store irrespective of the scale of the business. But before you can promote and advertise your online business store, you will need to get it optimized to attract target customers. With an SEO friendly website, you can attract more traffic to start earning from your online business.
3. Expert Shopify Developers
If you do not have the expertise needed to develop an online store, you will have to find someone who does. This task can quickly be done with the help of a professional Shopify developer. If your online store is small, and you do not have a lot of capital to invest, you need to keep it simple. It would help if you concentrated on developing your product or providing your service and leaving all the expert's technicalities to the developer. This will save you a lot of money and will help you achieve your goals quickly.
4. Customer satisfaction
Your online store is the most crucial part of your small business. This is where your potential customers will find you and where you will get orders for your products. When these people discover your store and are satisfied with your products, they will come back again. This is how all online businesses work, without customers and traffic, there will be no sales and no profit. Hence hire an expert UI/UX developer to enhance customer experience and satisfaction
Therefore, when you are looking forward to building your online Shopify store, always consider an expert agency to handle your business website development to draw the best possible solution for your business's success.
When To Hire a Shopify Expert Agency?
Now that you have understood why you need to hire Shopify experts, the next important question is "When to hire Shopify Expert Agency?". This question usually arises when one is unable to sort out the complexities of designing a website. The development companies not only have the expertise, but also the best support team that will help you sort out any technical complexities. However, there are a few points that you need to keep in mind when considering the expert agency.
When you are planning to hire Shopify experts, you need to do so as soon as possible. This is because the longer you wait, the more difficult it will be to get the work done and the more time will be needed for revisions. If you start the work after a particular time of the year, it will also be challenging to implement changes.
It would help if you also considered how long it could take for your particular project to be completed. This will depend on how complex or simple you want your store to be. Also, you need to determine how fast you will respond to the developer team's feedback, so you get the store ready according to your timeline.
Considering all the above factors, it's always wise to hire an expert developer as soon as possible to reduce your workload and get the store ready before the launch of your service.
How To Hire a Shopify Expert Agency?
There are various factors that you need to consider when hiring a Shopify developer agency. By knowing all these factors, you will select the most compatible Shopify development agency for building your online store.
1. Reputation of the agency
When you are thinking about how to hire a Shopify Expert Agency, you need to think about the reputation that it has. This will be determined by the number of awards the agency has received and the quality of services that it provides. You need to look for reviews posted on the internet as well as testimonials from existing clients. This will help you understand what to expect when you hire the specific developer's team.
2. Requirement satisfaction
Another important question that you need to ask the agency is whether they will be able to meet your needs. For instance, if you intend to target mobile customers, you need to ensure that the company can cater to them. The same applies to customers who want to use different devices while shopping. This is because certain features of the platform can only be used on specific sites. Make sure, you point out your requirement in detail before hiring the agency.
3. Experience and Customer support
You need to choose a company that has years of experience in the field. You also need to make sure that the company can offer all services required to run your online business. It should have excellent customer service to give you feedback on how your business is doing and what changes are expected. This means that they must have a customer management system to monitor all the orders placed in your store to draw a significant conclusion on the business growth.
4. Cost and timeline of the project
Another important consideration is the price of development services. You need to make sure that you are getting the best deal in the market along with the entire services package. Once you get help from the experts and their technology, you can expect your online store's faster development. If the team is using the latest technology, they will have an easier time developing new products for your store. This means that you will also be able to provide better services for your clients.
5. Team location
When you are looking into how to hire a Shopify Expert Agency, these are the factors that you need to consider. You will have to choose between an offshore and an in-house development firm according to your requirement. Choose the one that will be able to cater to all your needs and budget. There are plenty of advantages to outsourcing your development requirements, but the final decision will depend on your development process expectations.
Getting more visitors to your online store is very important if you want to earn more profit from your business. This is one of the reasons why you should hire professionals to do this job for you. In hiring a development agency, you will get the chance to use cutting edge technology to get more traffic in your store. These are the major advantages that you can get when you hire Shopify experts to promote your business online.
The best thing that you can do for a kick start at the beginning of your business is to achieve the best possible solution with the highest level of perfection and ease; make sure you have the right team to achieve so!