Best Tips to Hire Remote Shopify Developer For Your Projects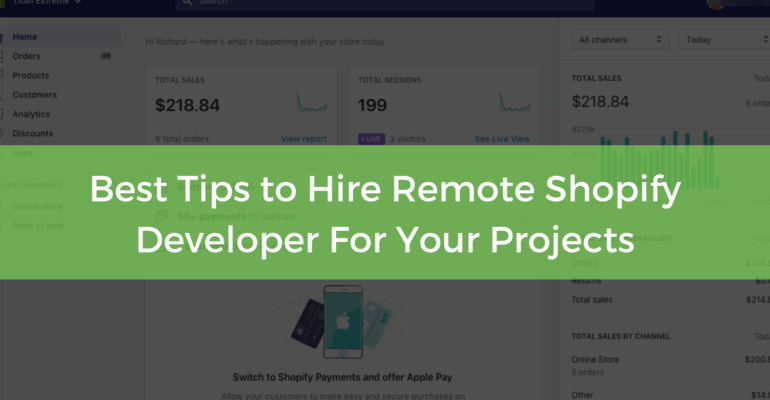 Best Tips to Hire Remote Shopify Developer For Your Projects
The world is witnessing a huge setback in businesses due to pandemic. There is a huge demand for remote developers. But, such a demand is not new.
 In fact, according to hubspot.com, there are 4.7 million remote employees in the US alone. It makes for 3.4% of the entire workforce of the country. 
So, finding a remote developer for your e-commerce website is not a bad idea at all. It is great for your business. But, you need to decide the technology for your e-commerce website. Shopify is one such platform for developing an e-commerce website. It is a commerce platform that allows any merchant to develop amazing online stores.
According to Shopify, they saw a spike of 176% in local store orders during the recent pandemic. Shopify powers more than 820,000 merchants with its e-commerce platform. So, choosing Shopify remote development can be perfect for your business. But, before you hire Shopify developers for your projects, let's understand how it works.
How Shopify Works?
Whether you are a small business looking to expand or a photographer looking to set up an online front for your business, Shopify can help you. It has clients from over 175 countries and a vast library of themes.
It offers many third-party apps for different features. The features like inventory management, digital payments, order tracking, and others are integrations.
It allows businesses to add product images, details, and even categorize them. So, you can create a complete e-commerce website for your customers with amazing product pages.
Now, we have some idea about the Shopify platform. So, let's get to know some tips on hiring remote Shopify developers.
Top Things to Gauge Down Before You Hire Shopify Developers for your Projects
1. Need For Remote Developers:
The first thing to consider is a need for remote Shopify developers. Since you already have in-house developers for your projects, it's quite essential to find out whether you need to hire remote developers/team or not. The best way to decide the need is to have a thorough brainstorming.
Grab your whiteboard and make two columns one each for in-house and remote developers. List out all the essential factors for the project. Then tick the best suitable option for both the columns to know exactly which the right choice is for you. It will also help you gauge the need for dedicated Shopify developers for your project.
2. Skill-Based Choice:
Shopify development is simple and does not need so much technical knowledge. But, if you want advanced features in your online store, then you will need skilled developers. Shopify allows you to alter the code of your themes through the dedicated section.
So, you need to consider whether you want highly skilled developers or not. According to StackOverflow, at least 20% of developers want remote working to choose a project. It means that most developers will consider a remote project.
Another survey by the US employee workforce says that about 77% of developers work fulltime or part-time remotely. So, you have a broader skill-base to choose from. Often it happens that an in-house developer needs training on the latest technologies. While you can choose remote developers with the latest knowledge-base in the market.
3. Budget-Friendly:
Hiring an in-house Shopify developer needs a thorough recruitment process. You need to spend on daily wages, insurance, provident funds, and other costs to the company. But, with remote Shopify developers, you get to choose between hourly-basis, part-time or full-time.
You don't need to go searching for an ideal candidate for yourself. You can choose a Shopify development company that offers dedicated developers. They can offer developers solely dedicated to your project within your budget constraints.
4. The Portfolio:
An expert Shopify developer is the one that knows some technical aspects and experience in Shopify development. Even if the budget is a constraint, don't just pick a rookie. Expert developers should have a knowledge base of languages like core PHP, Java, and even JavaScript. They should also have experience in API integrations for Shopify apps.
Every skill that is mentioned should be reflected in the portfolio. The scale and the vastness of earlier projects also count. Because if your project is of a bigger scale, you should know that your Shopify developer can handle it.
You should look for specific feature integrations that you want in your online store. Analyze the portfolio for these features. Then decide whether to choose the remote developer or not.
5. Process Definition:
It is not easy for companies to understand the process of Shopify development. Because, remote developers are not your in-house employees. So, you need to have a beforehand picture of how the process of development will unravel. The best way to do it is to ask for a process layout from your remote developers. This should include.
The basic language used for coding.
Hours of coding that will be needed.
Need for product CSVs and other details.
The development approach.
Need for a definition of product categories.
The total number of pages on the e-commerce platform.
Type of payment gateways for integrations.
Theme customization specifics.
Budget estimation for paid themes and apps
The basic architecture of the website for design purposes.
You can ask your remote developers to provide such information. If you are choosing a dedicated developer from Shopify development services, then ask for a presentation. It will help you with a proper understanding of the entire process.
6. Regular Tracking:
Your project needs to track each phase of your project. It helps with goal realizations and understanding the errors before launching your platform. So, remote developers should have a proper communication channel. If they are not sending regular reports on the progress of the project, you will be blindfolded.
While professional Shopify development services do offer regular reporting. They also provide insights into the project progress and relevant consultations.
7. Maintenance And Support:
The maintenance of your Shopify store is essential to keep the business running. You can't develop an online store and leave it for the best. You need to update product images, features, add discounts, and other such activities. It is the reason why you should have a long-term commitment from your remote developers.
You may also need technical support for your websites. The main benefit of these developers is that you can always communicate with them.
So, you are not liable for other responsibilities of a long-term engagement for your websites. To achieve such flexibility, prepare your contract with the maintenance and support clause.
Conclusion:
If you are looking for an online store for your established business, Shopify stores are the best. But, to create custom websites with a great user experience you will need good Shopify developers. Choosing a remote developer can be challenging without proper planning.
So, plan your hiring's with these factors and get the best in the market. You can get the best of remote developers in the market. But, coordination, commitment, and dedication need recognition before you hire them. Here, we have tried to cover some of the factors that can help you plan your projects. It will help you hire the best Shopify developers for your projects.
Do you have any other factors in mind for hiring remote Shopify developers?
Then feel free to share with us in the below-given comment section.