Everything You Need to Know About AI ChatBots

Everything You Need to Know About AI ChatBots
Communication is a custom and daily ritual that is necessary in a day. You just can't explain your thoughts to someone or you can't learn about others when you don't have conversations. To express ideas and opinions you need to talk to people. From a small social gathering to a discussion on big platforms, you need to convey your thoughts. Suppose there is a thing which you don't understand, so how will you clear your doubts until you wont ask about it. So we all know how important conversations are. We have known its value since an early age. Technology has added the spark in conversations. Technology with conversation has become a pre- eminent combination.
Technology has made every human a tech-savvy. Technology is expeditiously changing and is inconsistent. It is penetrating into human lives from every aspect.It is like a third hand in the human body, that reduces the workload for humans. The IT industry provides numerous opportunities to augment the technology. This sector opens the gate for millions of jobs in the technology field. In every sector, IT field is important that can break new tech barriers and evolve new evolving technology. It is an ever- expanding field and bestows many advantages. There are many trends in the IT industry and they keep evolving with the time. There are many trends going in this sector and artificial intelligence is supreme in it.
Artificial Intelligence as a trend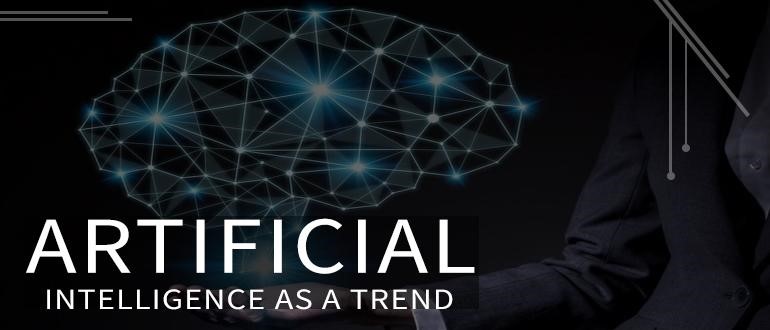 Artificial intelligence has been a great evolution in technology. It has made it possible to build a good relationship between computers and humans. With the help of artificial intelligence, there is nothing left that you cannot do with the help of technology. Scientists have divided artificial intelligence into three parts that is, weak AI, strong AI and AI. We mostly use weak and strong AI. There are many developments taking place in AI like artificial acquisitions and mergers, strategic AI partnership, AI investments, AI breakthroughs and innovation and AI chatbots. And the best innovation is AI chatbots.
What are AI chatbots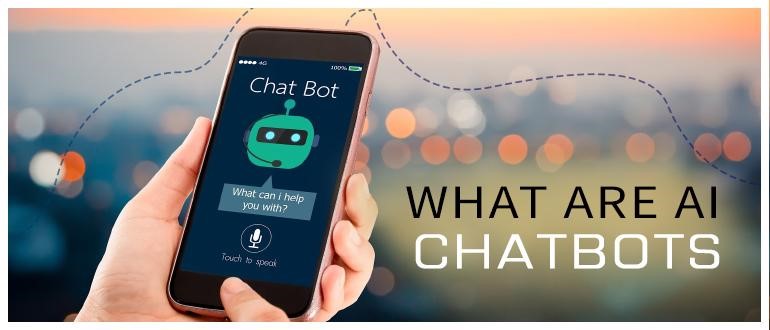 Chatbots are computer programs that allow humans to interact with computers through voice commands and chatbots. It is similar to the way we interact with humans. It is a messaging application that helps you to have conversations with computers in natural language just as you would like to talk to a human. For just a conversation you can talk to humans also but then why do you need chatbots? In a company, you need to hire many people to manage emails, calls, to solve queries, to know more about products and many more. But this makes staff very tired and restless and it also costs a lot of money. Also, sometimes customers get very irritated after being on hold. But chatbots solve all such problems and interact with customers efficiently. It can help the company to progress more.
Advantages of chatbots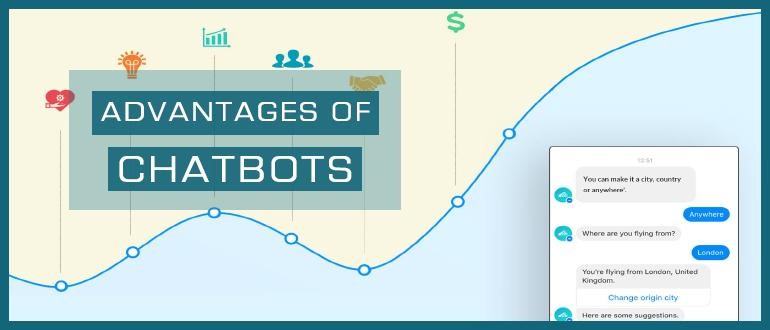 Chatbots even bring forth the possibility to interact with robots in natural language processing. To give any instructions to the computer, you need to use a programming language. But AI chatbots bestows the benefit of interacting in NLP. they can easily handle the queries even if they don't know the proper answer. Thay have sophisticated interactive platforms. They can also understand slangs used in everyday conversation and can analyze emoticons.
Chatbots are immensely powerful and can analyze things incredibly. Chatbots mostly answer all the text but sometimes when it is not able to answer then it passes that query to the human operator. They learn and store all the conversations and answers and reiterate later. It is predominantly connected to relevant data so that you can get the best of your knowledge. Most of the multinational companies like Amazon, Apple, Microsoft have their own AI chatbots. There are many platforms to build chatbots like dialog flow, bold360, tars, hubspot etc. which are easy to use.
There were many remarkable chatbot successes that include Alexa as well as WeChat. These platforms enabled many thousands of chatbots, and helped in making conversational commerce a reality.
Chatbots boosts the lead generation and maintain a good custom relationship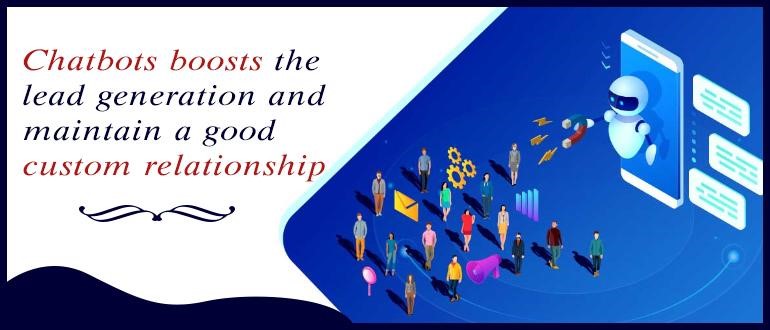 Chatbots have been the boosters for lead-generation companies. After the invention of chatbots, the productivity of marketing has increased a lot. Basically, lead generation companies with the help of job applicants, blogs, and content attract customers who show interest in products and companies. They aggregate the information about customers and products and win deals. They try to target the market by organizing data efficiently.
Chatbots increase prospects of a company by having private conversations with customers and convincing them about products. Chatbots are reliable for both companies and customers. It eases the load of consumers and it does not bore them. Many times when we visit any website we have to fill out a form but chatbots have replaced the forms. They ask the interest of customers through conversation.
It is very easy to sell products when you know the interest of customers. It can be done by conducting surveys and asking questions. E-commerce stores also have chatbots to what product or service customers need. It segments the audience according to their needs. This helps in scrutiny about customers. Companies have built a good relation with customers with the help of chatbots. It helps them to interact with customers daily and can take care of customers preferences.
CRM strategy is very important when you have to maintain a good relationship with customers. These strategies are used in businesses to improve revenues, increase profits, decrease costs, increase customer reliability. To sustain the correlations with clients you need to have a good interaction with them and offer good rewards. This makes customers happy and consistent. Companies need to build trust with customers and prove them loyalty. It is very essential to diligently focus on their specificity. Chatbots make these strategies attainable. Chatbots are like apps. It provides seamless live chats where you will feel as if you are talking to live managers with quick replies. You can communicate at any time with endless queries. It makes customers less tense. Travelling, shopping , reservation or any other agency have started providing chatbots so that you can shop or reserved seats according to your comfort. You don't have to be uneasy to book any tickets. Just clicking on the advertisements which are striking on any of the websites can send you directly to chatbots and then you can straightforwardly learn about product and service.
Chatbot as an asset for Email Marketing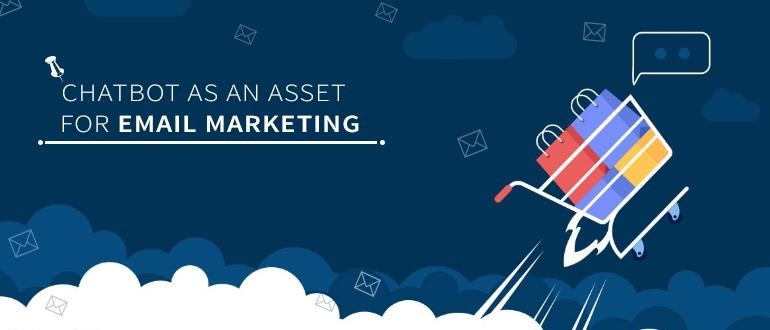 One of the most effective marketing methods in the digital world is Email Marketing.This is due the reason that it is one the most economic strategies out there that any business can use. According to the return of investment(ROI) email marketing companies have the highest ROI in digital marketing. The return ratio was 1:38 ,i.e., spend $1 and gain $38. Which is a quite good deal in business.
Some people think email cannot get any better, they need to rethink it because of the leverage of the latest technological trend that is chatbots. Introduction of chatbots will benefit the customer as you will no longer have to spam their inboxes. Instead, chatbots will offer the customer or the client with a flawless experience. In addition, chatbots also help automate business email or any other content that the customers would like to see. Chatbots are becoming widely used by email marketing and are still very effective. Combination of these two approaches can greatly benefit your business and reach success more efficiently.
Wrapping up
Artificial intelligence has affected our life in every aspect. The best evolution took place in the world of technology is AI. It has affected our life in every aspect. We do not even realise when it encounters into our lives and make us habitual of it. It has changed the meaning of our interaction with the world. Many developments have taken place and many to follow in upcoming years. Chatbots are the best development to enumerate that has brought changes in our professional and personal life and make it trouble-free.  
About Author :
Myself Gaurav Saraswat and I serve as a Seo executive at Techno Softwares. We generally focused on our CRM Strategy. I'm a content writer as well. Feel free to ask anything related to SEO and Content Writing.