6 Questions to Ask When Hiring Shopify Developers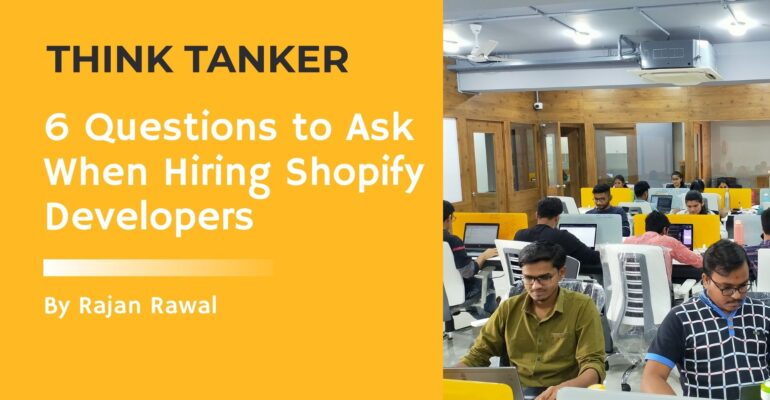 6 Questions to Ask When Hiring Shopify Developers
Beginning in 2020, the world has transformed radically due to several reasons, mainly the pandemic crisis that has affected the entire world. A major change has been the lifestyle shift, where everything from shopping to socializing has moved to digital platforms.
No wonder then that there has been an explosion of digital shops which are vying to deliver products and services online. And this exponential growth has also increased the number of solution providers who enable store owners to create and manage their online presence.
That brings us to Shopify. More than 1,000,000 million businesses, almost 11% of the entire ecommerce market share, are powered by Shopify.
We have discussed what makes Shopify so popular for ecommerce in another blog. Whether it is retail, fashion, or even computer software, Shopify is truly revolutionising the concept of building and managing an online store.
If you are one of those store owners who wants to upgrade their existing store, or build a new store from scratch, you are probably going to choose Shopify development services. Don't ask how we know, we just do.
In our years of experience as a Shopify development agency, we have guided clients who wanted standard solutions, and those who wanted a great degree of customization. Some of them are not really sure that they require a full-fledged Shopify development company for their project due to a number of reasons: costs, flexibility, particular expertise, etc.
So, they would rather hire Shopify developers who can work with their existing ecommerce development company, or their in-house teams. Fair enough. But they always have this question: how to find the right developers to help bring our vision to life?
This is a very wide question, but the answer is quite simple. You should hire Shopify developers after judging their capabilities, and the relevance of their expertise for your requirements. To do so, we have prepared a list of questions which will help you determine which developer can be of most use to you.
Here are the 6 questions that will help you hire the best Shopify developer:
1. Are you a Shopify expert?
Shopify itself offers a wide range of partner and expert programs certification options for developers. You can be sure that a certified Shopify expert has been thoroughly vetted for expertise, and someone who understands not just the practical use but also understands the theory of how the platform works.
Of course, this does not mean that only certified Shopify experts should be hired. This is not meant to be a 'yes' or 'no' question, but rather as a conversation starter to discuss the potential hire's level of expertise and their future interest in the technology.
You will find any number of developers who claim to be experts at Shopify. But the way they answer your answer, about why or why they don't consider themselves as experts is a great way to explore their comfort with the platform.
2. Do you include revisions in your development scope?
When you hire Shopify developers, instead of a Shopify development company, you should be careful about the terms of engagement. Not all developers consider revisions a part of the job and can refuse to do so within the agreed budget.
The developer works on a limited time schedule and that means that you have to be extra quick in sharing your feedback. For example, if the developed project is not really working the way you think it should, or the developer has misunderstood what you communicated, is it or isn't it the developer's responsibility? Without revisions being explicitly agreed upon, the outcome may not match up to your expectation from the project or align with your vision.
The answer to this question helps you also determine how confident the developer is about his skills. As an expert, he would be sure about his capabilities to understand and deliver as discussed. 
3. How important is customer satisfaction for you?
Skill is one thing; attitude is another thing altogether. The right developer understands that the customer is the driving force behind the project, and customer satisfaction is the strongest metric for the success of the project. Their work should be aligned with the customer's business goals. Otherwise, what is the point of exceptional skills which do not serve the purpose of investing in them?
The right Shopify developer should be able to guarantee that he will work towards satisfying your requirements with the project. How he answers this question shows you reveals his motivation and goals for the project. 
4. Can you tell me about your latest ecommerce project? And your personal favourite project?
A straightforward question, but one that can have additional queries. When discussing projects, start with the client requirement, and then determine how it matched the final output. There may have been revisions in the stated goals, or a change in strategy during the course of development, but it is a chance for the developer to showcase his grasp of the latest features of the platform.
Every developer has a passion project that he is most proud of. Discuss how it came about, what issues he faced, lessons learned, and skills acquired. Notice the importance given for the design, user experience, and the ecommerce processes that will impact your revenue.
5. Which tools do you use for project management, communication, task management? Why?
The developer you hire should be able to adapt to your communication tools for ease of management. If you hire multiple developers, it is not possible to use different tools for each of them. At the outset, make sure that they are comfortable in the tools that you and your team use so they are not left out of the communication process. 
6. What are your strengths in Shopify development?
The Shopify developer you hire should fulfil the criteria for your project. If someone is great at design, it is good to have them. But unless they understand how to improve the checkout process for your customers, their skills are not really going to make much of a difference to your project.
This is an open-ended question that is designed to explore the various requirements you will have for your project. Let them list as many points as they can but ensure that they can support their claims with actual proof of accomplishment. If a developer claims fast delivery, discuss whether they are experienced in migration and optimization as well.
Conclusion
Hiring the right Shopify developer helps you build and manage your online store better and more efficiently. We hope that the questions we shared with you helps you make the right choice. If you want to know more, or discuss this further, we would be happy to help.